"Doesn't Work That Way": Tom Brady Learns Harsh Lesson After Being Outclassed by Dak Prescott's Dallas Cowboys
Published 01/17/2023, 12:12 PM EST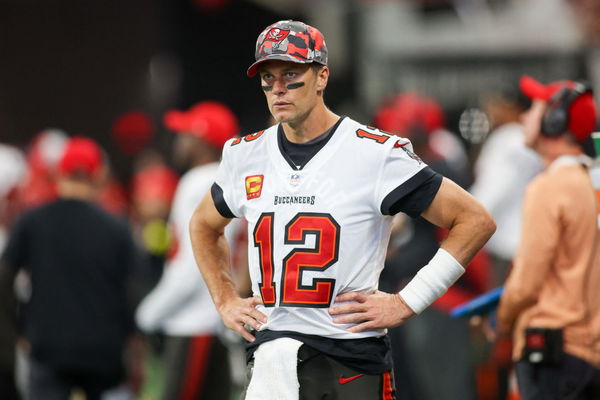 Tom Brady will have to wait some more for that eighth Super Bowl ring. The Buccaneers met their end in this NFL season after the 31-14 loss to the Dallas Cowboys last night in their NFC Super Wild Card playoff matchup. And after the roughest season in his playing career, Brady seemed to have learnt a lot.
In the post-game press conference, the Tampa Bay signal-caller reminisced about a season that wasn't heavily tipped in their favor, to begin with. Despite a divorce and a rough start to the season, Tom Brady led the Bucs to back-to-back NFC South Division titles. And TB12 knows there can be only one winner.
Tom Brady explained his mixed emotions in the most mature way
ADVERTISEMENT
Article continues below this ad
After winning seven championships for the Patriots (6) and Tampa Bay Buccaneers, Brady knows a thing or two about winning and losing. No 12 finished 3rd in the league this season in passing yards (4654) in his 23rd season. Understandably, he knows how to process a loss.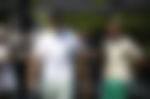 "You want every year to end great. Unfortunately, sports doesn't work that way. There's 32 teams in the league, all very competitive. And only one of them is gonna really feel good at the end of the year. Many of the teams won tonight. But there's gonna be 7 of the 8 teams that won't feel great at the end of the year. And that's why it feels good when you're on the top," Tom Brady said.
However, Brady's teammates having a rough season wasn't the only reason for the loss. Dak Prescott and the Cowboys showed up when they needed to, and ended Tom Terrific's 7-0 win streak against Dallas.
The Cowboys simply outplayed Brady and Co
ADVERTISEMENT
Article continues below this ad
Brady had a good passing game on Monday night's playoff action. The 15x Pro Bowler threw two touchdowns over 351 passing yards. Normally, that is enough. However, the Cowboys and Dak Prescott had a night to remember.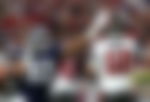 Prescott threw 4 touchdown passes over 305 yards and ran for an additional 6-score himself. Brady, on the other hand, had his first-ever playoff red zone interception in the home game at the Raymond James Stadium. Also, the lack of a running game hit the Bucs hard. And Dallas never looked to be in any trouble.
ADVERTISEMENT
Article continues below this ad
WATCH THIS STORY: From San Francisco 49ers to Las Vegas Raiders, here are teams that are aggressively chasing NFL GOAT Tom Brady
Julio Jones and Cameron Brate caught the two Brady touchdown passes. But overall, the wideout department had a quiet night. Brady could have played his last game for the Buccaneers, entering free agency this March. However, for now, he just thanked the fans and wanted to take a long nap after a brutal season. The Cowboys face the 49ers in the divisional playoff round next week.