"Don't Care What He's Accomplished"- Analyst Lashes Out at Tom Brady After Jared Goff Snub
Published 11/24/2020, 11:09 AM EST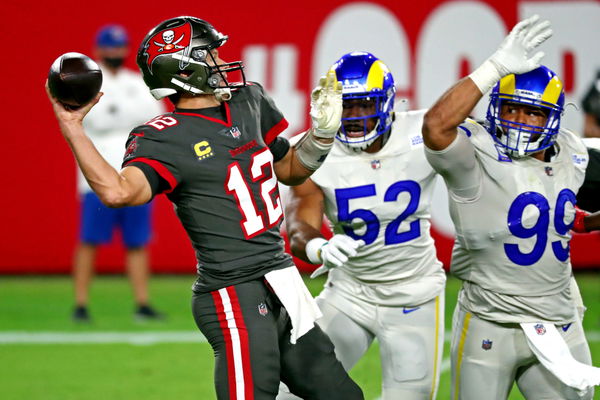 It was another disappointing night for Tom Brady and the Tampa Bay Buccaneers as they fell to a 27-24 loss at the hands of NFC West franchise Los Angeles Rams. Visiting quarterback Jared Goff put in a strong display throwing for 376 yards with 2 passing touchdowns and 2 interceptions.
As is often the case, Goff was waiting to shake hands with the legendary Tom Brady after last night's win in Florida. But to his surprise, the 43-year-old quarterback did not bother to stay on the field. Of course, not too many people were pleased by that.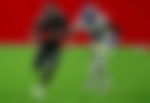 ADVERTISEMENT
Article continues below this ad
NFL Analyst wants Tom Brady to explain Jared Goff snub
Popular American talk show host Kyle Brandt did not hold back while talking about the Tom Brady – Jared Goff incident from Monday night.
He said, "Tom Brady has his job. I think we can all agree because Jameis Winston threw really bad interceptions in big moments and they had to move on from them.
"Brady threw a couple last night including one to end the game bitterly and disappointingly a walked right off the field and then shake Jared Goff's hand…
"Because it's a really bad look when the other quarterback is sitting there shaking your teammates' hands clearly loitering around waiting for you.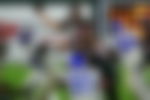 "Brady said earlier in this in the season, he said sometimes you know when I have a personal relationship with the guy, I'll go shake hands with them. You had an extended tender moment with 22-year-old Justin Herbert after you beat him.
ADVERTISEMENT
Article continues below this ad
"He has now left two guys hanging that he played in the Super Bowl. Two guys after losses….I don't care what he's accomplished. I'm obligated to answer the question about why you did that.
"I would like an answer. Because the way this is going, this is going to happen after a playoff game," Brandt said on GMFB.
The Buccaneers are second in the NFC South Division table with 7 wins from 11 games in 2020. They will host an in-form Kansas City Chiefs outfit led by the magnificent Patrick Mahomes in Week 12.
ADVERTISEMENT
Article continues below this ad
Coach Arians will expect his misfiring team to find their mojo in the coming days as they prepare for arguably their 'game of the season'.