'Dorsal Fin Ball From Russell Wilson': Pat McAfee Issues Latest Complaint From a Disappointing Season Start for Denver Broncos' Russell Wilson
Published 09/29/2022, 4:33 PM EDT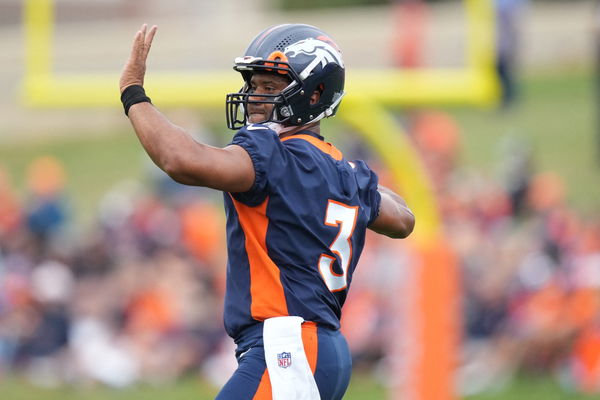 NFL superstar quarterback Russell Wilson and Spinmaster launched new Aerobie together in 2021. Now with a bad start to the season hanging on Wilson's head after joining the Denver Broncos. Pat McAfee has issued another damning review of the player's endeavor.
ADVERTISEMENT
Article continues below this ad
Pat McAfee is one of the more brazen voices outside the conventional NFL media. Talking his mind and pulling no punches is part of the former punter's brand. Recently, the Denver Broncos star Russell Wilson made a mistake of sending his new Aerobie sonic fin football to the show. In a segment on the Pat McAfee show, the football came up and the former NFL player felt that the ball had its contribution to the Denver Broncos. Joking about Wilson's poor start he said, "He[Wilson] wasn't throwing the ball as well early in the season because he was used to practicing with performance enhancing fins on a f***ng ball all of offseason".
ADVERTISEMENT
Article continues below this ad
He explains how the fins really help the ball to get going. If the ball is turning one way and you adjust the fins, it will just go the other way. A ball made for only throwing as per McAfee, owing to its smaller front and fins at the back. The ball is not comfortable to catch. Furthermore, adding that using the ball will feel good when you actually throw a spiral with it. However, it will certainly ruin any other ball for you.
Early season woes for Russell Wilson
The Denver Broncos have started 3-0 in the season. A perfect record for the Broncos does not actually tell the whole story. Winning against struggling teams isn't always a worthy a positive. Even so, struggling to win against those teams should raise some concerns. While their defense has been able to make important game changing plays. It's their offense which is yet to actually deliver.
ADVERTISEMENT
Article continues below this ad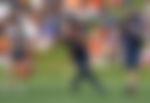 Bringing in Russell Wilson in the offseason was seen as a big win for the team. However, the quarterback is not looking like he'll take the league by storm anymore. Far from it, in 3 starts the player has 743 passing yards and only 2 touchdowns to pair with it. Yes, only 2. With a completion percentage of 59.4, it is not something that you'll expect from an elite passer like him. So, whether Wilson was actually practicing with the Dorsal fin ball or not is a mystery, but some questions are to be asked.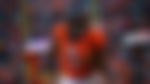 ADVERTISEMENT
Article continues below this ad
Still, let's not forget that it could be very well that even a seasoned veteran like Russell Wilson can take some time to adjust to a new system. Having a new shot caller in Nathaniel Hackett, the star might take some to gel in. And its not like he's been apalling. He has taken some shots and completed important conversion to secure their wins. Maybe we see Wilson show us his sonic fin ball skills at this year's new Pro-Bowl week.
Watch this story: Lamar Jackson contract talks in jeopardy as Russell Wilson and Kyler Murray get Deshaun Watson money but unguaranteed