DPOY Favorites Jalen Ramsey and TJ Watt Fined Heavily by NFL in Week 13
Published 12/12/2021, 1:16 PM EST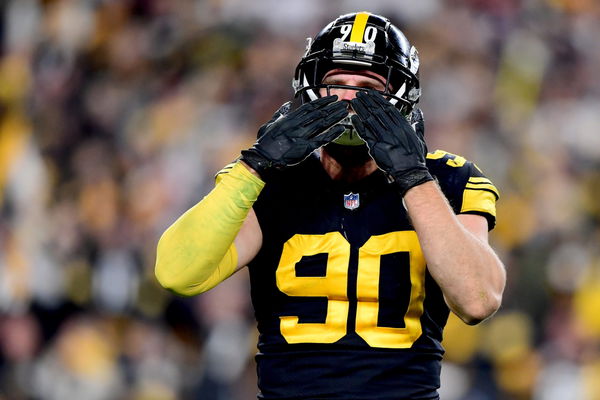 ---
---
The NFL has recently fined both of its defensive stars, Jalen Ramsey and TJ Watt due to the NFL's rule on taunting. The DPOY contenders were handed a hefty fine of $10,300 due to their Week 13 mishap, according to NFL Network's Tom Pelissero.
ADVERTISEMENT
Article continues below this ad
Both the penalties happened during the Week 13 matchup of the Los Angeles Rams and the Pittsburgh Steelers. With that, the NFL's emphasis on penalties has claimed another two victims this past week. However, despite being called for a taunting fine, TJ Watt has managed to claim the DPOW for his impressive efforts.
The NFL fined #Steelers LB T.J. Watt and #Rams CB Jalen Ramsey $10,300 each for taunting in last week's games.

The crackdown continues.

— Tom Pelissero (@TomPelissero) December 11, 2021
ADVERTISEMENT
Article continues below this ad
Jalen Ramsey fined against Jacksonville Jaguars
Jalen Ramsey was flagged during his Week 13 matchup against the Jacksonville Jaguars. Where he stood over the ball carrier after completing a tackle and shook his head, resulting in a 15-yard penalty. Although it was hardly a horrific violation, it was enough to raise the flag.
Ramsey's infraction handed Jacksonville a free 15 yards, although, in the end, it little affected the outcome since the Rams won the game by a whopping 37-7 score. The cornerback might not mind paying $10,300 for the unnecessary taunt after the win. Ramsey has been fined many times this season for insulting his opponents.
TJ Watt was fined for taunting and honored for efforts
In a similar way, Pittsburgh Steelers star linebacker TJ Watt was penalized for taunting during his Week 13 win against the Baltimore Ravens. Watt has already been penalized once this season, for a personal foul against the Seattle Seahawks in which he attempted to knock the ball carrier out of his hands. However, this is going to be the first taunting call for Watt this season.
ADVERTISEMENT
Article continues below this ad
However, apart from that one penalty, Watt delivered an impressive performance against the Ravens. He racked up six QB hits with 3.5 sacks, a forced fumble, and several key pressures. Due to his incredible efforts, Watt was named the Defensive Player of the Week.
ADVERTISEMENT
Article continues below this ad
Although with another Week gone, the NFL has emphasized its efforts to reduce taunting during the games. This newly adopted rule has irritated many fans and players yet it still continues to claim new victims every week.