Drama Emerges in Pittsburgh Steelers Camp After Potential 'Big Ben' Replacement Mason Rudolph Reveals Genuine Feelings Behind Losing QB1 Job to Bears Reject Mitch Trubisky
Published 09/08/2022, 12:00 PM EDT
It was the end of an era after Ben Roethlisberger left the quarterback room null and void, announcing his retirement earlier this offseason. It's a big responsibility upon the one who tries to fill his shoes. And guess what? The Pittsburgh Steelers have decided to go with the former Bills backup Mitchell Trubisky, benching the long-time quarterback Mason Rudolph and the rookie Kenny Pickett.
ADVERTISEMENT
Article continues below this ad
This preseason was a contest for the trio to get a true franchise quarterback tag. And head coach Mike Tomlin finally decided to go with Trubisky. However, Rudolph was viewed as a clear favorite for the role.
ADVERTISEMENT
Article continues below this ad
He was a long-time backup for Big Ben, and the quarterback is in his fifth year for the franchise. But the situation turned dramatically. But what's more sad is the fact that he is now listed third in the QB depth chart behind the 2022 first-round pick Kenny Pickett.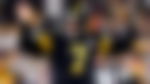 This means he won't be wearing the jersey in the season opener against the Patriots on September 18th. He was first kept on No 2 as a backup. But later got demoted to the third spot, with the management clarifying the move as a clerical error.
"I'm a competitor," Rudolph said to the reporters. "Anyone who wants to compete wants to be the guy on the field, but those are things I can't control. I'm going to have a good, positive mindset. And do what I can to help us win, I'm a much better player than I was in years 1 to Year 5. I'm confident in myself and happy with myself when I did get the reps, I'm going to do whatever I'm asked to do," he added to his explanation.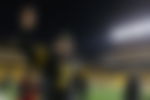 This time it's an opportunity for Trubisky to prove himself. Those were the four inconsistent years when he debuted his NFL career with the Chicago Bears before getting a role with the Buffalo Bills.
Pittsburgh Steelers head coach says it was difficult to choose between the trio
ADVERTISEMENT
Article continues below this ad
As of now, it is clear that filling up the void for Ben is difficult. However, in a current lot of passers, each one of them possesses unique abilities.
Moreover, in all three preseason games, Rudolph and Trubisky were toe-to-toe, impressing the coaches. "They're making it difficult for us," Tomlin told reporters in camp.
ADVERTISEMENT
Article continues below this ad
"It's tough to manage three capable guys, but they're forcing us to do it because they're making the necessary plays. They're anticipating, the timing has been good, the accuracy has been good," he added. It will be interesting to see how much success the Stealers are going to enjoy heading into their first campaign without Ben in the locker room.
Watch This Story : Some Glimmer of Hope for Tom Brady & the Buccaneers Ahead of Blockbuster Season Opener Against the Cowboys
Edited By: Gurjyot Singh Dadial