"It Breaks My Heart" – Drew Brees Apologizes After Facing Severe Backlash
Published 06/04/2020, 10:43 AM EDT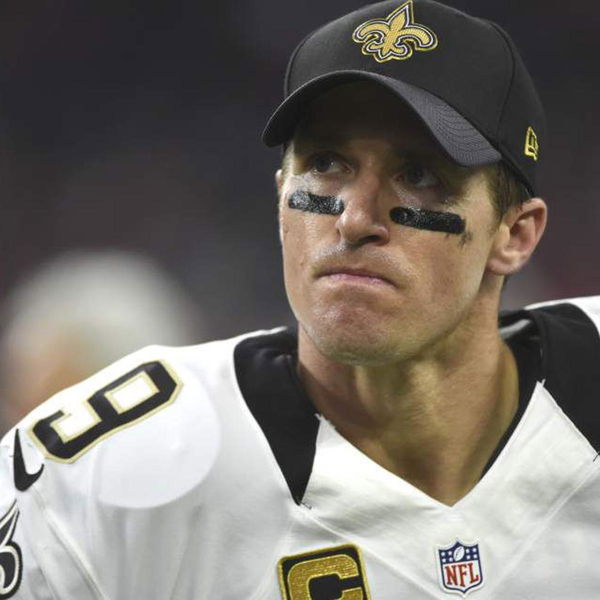 ---
---
New Orleans Saints quarterback, Drew Brees is under fire for his recent comments regarding NFL players kneeling during the national anthem, played before the start of a game. In an interview with Yahoo Finance, Brees said that he would "never agree with anybody disrespecting the flag of the United States of America".
ADVERTISEMENT
Article continues below this ad
Highlight: "I think my response via social media today was basically to reinforce my belief that God created us all equal and I think that we all have a responsibility to love each other and to respect each other," New Orleans Saints Quarterback @drewbrees says. pic.twitter.com/Uqng8tYDpu

— Yahoo Finance (@YahooFinance) June 3, 2020
ADVERTISEMENT
Article continues below this ad
Brees Apologizes for His Comments
Brees has since taken responsibility for his insensitive comments and apologized. He explained himself on Instagram by writing a long apology. Drew said that his comments lacked awareness, compassion, or empathy and that he stands against oppression. He further states that he has always been an ally and never an enemy. "I love and respect my teammates, and I stand right there with them in regard to fighting for racial equality and justice," Brees told ESPN. "I also stand with my grandfathers, who risked their lives for this country, and countless other military men and women who do it on a daily basis."
 

View this post on Instagram

 
Backlash
Brees's comments attracted severe criticism from many, including his teammates, such as Malcolm Jenkins and Demario Davis. It was said that kneeling during the national anthem or in front of the flag has nothing to do with disrespecting the American flag. It is about bringing to attention and calling out the deep-rooted racial injustice that has been prevalent for years now.
However, a lot of people also tried to support Drew by trying to understand where he comes from and why he said what he did.
A thread with comments from former Saints receiver Joe Horn, who reached out to express his thoughts on Drew Brees & his comments today

Horn: "People should not be throwing Drew Brees under the bus, and they definitely need to pump the brakes on labeling him a racist. (contd.)

— Jeff Duncan (@JeffDuncan_) June 4, 2020
ADVERTISEMENT
Article continues below this ad

Background on Drew Brees and His Comments
Former teammate, Joe Horn said, "Drew has done a lot to help black families and the black community in New Orleans. If Drew Brees didn't love black families and low-income families, he wouldn't have helped the way he has over the years. Drew is a good person. And until you have walked beside him and gotten to know him, his wife and family, you definitely have to give him a pass on this one and allow Drew a chance to think about what he said and come back and make this right."
In 2016, Brees supported the cause for Colin Kaepernick's protests – racial injustice – but disagreed with his method. The Saints took a knee before the playing of the national anthem and then stood for the anthem prior to a game against the Miami Dolphins in response to President Trump's comments over NFL players' way of protesting.
ADVERTISEMENT
Article continues below this ad
Drew and his wife, Brittany, have been involved in a lot of charity throughout his career. The couple donated $5 million for COVID-19 relief earlier this year.
These comments came in the backdrop of the ongoing protests over the death of George Floyd and Brees's recent Instagram post whereby he called upon everyone to unite, and love and respect all.