Eagles OT Lane Johnson Has High Praise For Jalen Hurts
Published 04/10/2021, 5:45 AM EDT
---
---
Jalen Hurts is getting the keys to the kingdom in Philadelphia. After a tumultuous season for the 2018 Super Bowl champs, they parted ways with quarterback Carson Wentz, sending him the Colts.
ADVERTISEMENT
Article continues below this ad
And now, the Eagles are backing Jalen Hurts to be the new starting quarterback for the team. After his exploits deputizing for Wentz last season, there is a lot of confidence in Hurts going into the new season.
Philadelphia Eagles offensive tackle Lane Johnson was a guest on First Take. The panel asked Johnson what he thought of Jalen Hurts. The Eagles man had great praise for Hurts, talking about what he was able to do last season.
ADVERTISEMENT
Article continues below this ad
He spoke about how well Hurts can move on his feet, his passing range, and his overall game. Johnson echoed the excitement within the franchise for Hurts getting his opportunity.
"The only difference between me and Jalen is my arms are just a little bit stronger. He just has a little bit more accuracy. But man, we're excited to have him, I think you saw a glimpse of what he can do.
"The four or five game stretch he was in, obviously versatile with his legs, can do things outside the pocket, extend in plays. Jalen was talking about his aura and his presence, he carries himself like a veteran."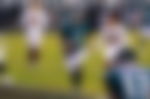 Jalen Hurts ready to make a mark
The praise Hurts is getting from his teammates is a good omen. Oftentimes, a young player like Hurts has to spend years proving himself to the rest of the team to garner their trust.
Here, his small stint towards the closing end of the season has caught a lot of eyes. However, Hurts will not just rest on his laurels, and show why he deserves the trust and admiration of his teammates.
ADVERTISEMENT
Article continues below this ad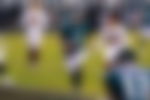 Jalen Hurts is being groomed to be the new starting quarterback for the Eagles. It is a high honor for a player his age. Hurts is entering his second season with the Eagles this year. But there is a lot of trusts placed in him, to be able to carry the franchise.
And after how badly the season ended for the Eagles last year, Hurts will have a strong chance to make an impression with his new team.
ADVERTISEMENT
Article continues below this ad