Eagles VP Catherine Raiche In Line to Become Second Female GM of an NFL Franchise
Published 01/13/2022, 10:31 AM EST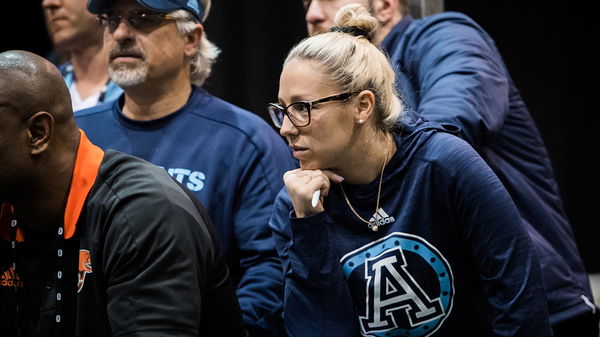 ---
---
Throughout their illustrious history in Scandinavia, the Vikings are known to have strong female leaders. The Minnesota Vikings are trying to get inspired by this culture and bring it to the NFL. Catherine Raiche is about to make NFL history. The highly reputed vice president of the Philadelphia Eagles is being linked with the Minnesota Vikings. Raiche has been a regular fixture in the NFL. The Vikings want her to be their next general manager. 
ADVERTISEMENT
Article continues below this ad
Catherine Raiche in the world of football
The 33-year-old has spent three years with the Philadelphia Eagles. Raiche joined the organization in 2019. Originally, she was brought in as a football operations/player personnel coordinator. But eventually, she climbed the ranks. Catherine has been very successful in her career. Last off-season, the Eagles promoted her to VP of football operations. 
ADVERTISEMENT
Article continues below this ad
Catherine started her career in football in 2015. Before joining the NFL, the Canadian native spent five years working in her home country. In the Canadian Football League, Raiche had a couple of front office stints. She worked for Toronto Argonauts and Montreal Alouettes. In 2017, Catherine Raiche made history in Canada. She became the first female assistant general manager for Montreal. 
With her experience in Canada and the NFL, Raiche seems like a perfect fit for the Minnesota Vikings. The Vikings recently parted ways with their previous GM Rick Spielman and coach Mike Zimmer during Black Monday. The team has missed the playoffs for two straight seasons. Even though Minnesota is still looking for an HC, they have found a perfect candidate for the GM position. 
The first lady of the NFL
If Catherine Raiche signed the dotted line with the Vikings, it wouldn't be the first time we see a female GM in the NFL. That eminent title goes to Susan Tose Spencer. Spencer was the general manager of the Philadelphia Eagles for three seasons, from 1983 to 85. Susan worked with her father Leonard Tose who was the owner of the Eagles back in the day. Tose Spencer rebuilt the Eagles squad.
ADVERTISEMENT
Article continues below this ad
This team would go on to make three consecutive playoffs later in the '80s. She brought about some legendary Eagles players. During the Supplemental Draft in 1984, Susan signed the Hall of Famer Reggie White. In the 1985 NFL Draft, she selected Randall Cunningham in the second round. 
ADVERTISEMENT
Article continues below this ad
The Vikings fans are very excited to welcome Catherine Raiche. Under her leadership, the Vikings could make a significant impact in the future NFL seasons. 
Watch Stories: From Jacksonville Jaguars to Chicago Bears; NFL Teams That Need a Clean-Up