Eagles WR Slams Jayson Tatum in an Eight Word Tweet After Losing Championship to Stephen Curry's Warriors in Game 6 of NBA Finals 2022
Published 06/17/2022, 3:49 PM EDT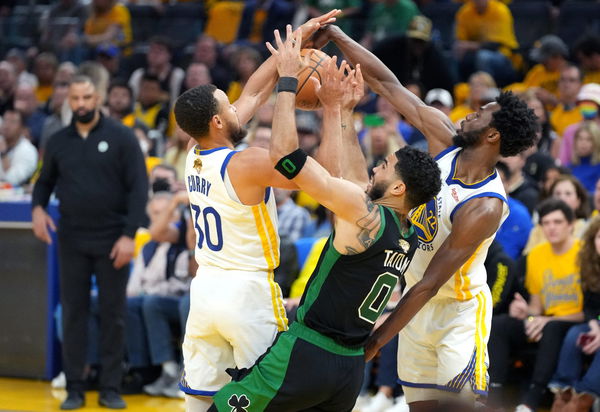 The Golden State Warriors were crowned as the NBA Champions after closing out the Boston Celtics in game 6 last night. Jayson Tatum, who has been quite good throughout the playoffs, had a very poor outing in game 6. Consequently, he was bound to face a lot of criticism.
Philadelphia Eagles wide receiver DeVonta Smith on his Twitter account, had some words to say for the Celtics starlet. Tatum, who scored just 13 points in the biggest game of his career, was visibly under pressure and failed to rise to the occasion. DeVonta Smith wrote, "JT ain't got no dog in him mane …"
ADVERTISEMENT
Article continues below this ad
JT ain't got no dog in him mane …

— DeVonta Smith (@DeVontaSmith_6) June 17, 2022
The Eagles WR meant Tatum didn't have the X factor in him to perform under pressure. Even though the ECF MVP is a great admirer of late Kobe Bryant, he wasn't able to display the Mamba Mentality in this game.
DeVonta Smith's tweet signified what many people were thinking about Jayson Tatum after Game 6. He is an outstanding young player who will have tremendous success in the future. Unfortunately, his first outing in the NBA Finals didn't go as he would have wanted.
Jayson Tatum and the Celtics made a gigantic leap this season
Even though the Boston Celtics were outplayed by the Golden State Warriors in the NBA Finals, this was a wonderful season for them. They overcame all the odds that were against them. Before the start of the season, nobody would have thought that they would be a contender this season.
ADVERTISEMENT
Article continues below this ad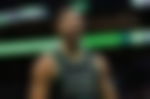 Jayson Tatum transformed himself into a superstar this season. The way he went against the likes of Kevin Durant, Giannis Antetokounmpo, and Jimmy Butler in the playoffs was remarkable. He is just 24 years old, and the future is dazzling for him and his team.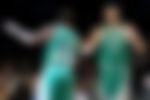 The Celtics will be back once again next season. Jayson Tatum will learn and grow from this poor series against the Golden State Warriors. Many skilled players weren't able to perform well in their first NBA Finals, and Tatum also joined that club. He will get enough chances in the future to redeem himself, and bring a championship to Boston.
ADVERTISEMENT
Article continues below this ad
Watch This Story: Rob Gronkowski, Tom Brady, And Odell Beckham Jr's Involvement In Crypto Becomes Butt Of Jokes From The Onion