Earning Over $2,600,000 a Month Not Enough for Travis Kelce & Jason Kelce's Tom Brady Dream: "There's No Way…"
Published 05/26/2023, 2:40 AM EDT

Follow Us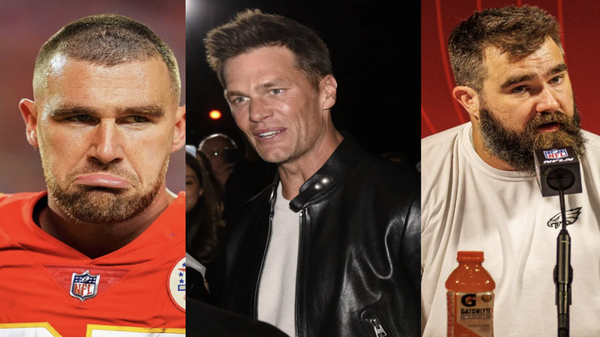 It looks as though retirement didn't take away the hunger for Lombardi trophies from 7x champion Tom Brady. After his playing days came to an end, TB12 entered into a minority partnership with the Las Vegas Raiders this week. And while every NFL player aspires to own a part of a multi-billion dollar football franchise, not everyone can afford it. Thanks to the massive QB contracts in the league and his multiple businesses and endorsements, Brady clawed his way in. Sadly, the same can't be said for the Kelce brothers.
Jason and Travis Kelce brought up the Tampa Bay Buccaneers and Patriots passer's latest business adventures and wondered if they could do the same. KC Chiefs tight end Travis Kelce thought that his brother has a legitimate chance of following in Brady's shoes. However, there is one factor that serves as a major impasse in that scenario.
Jason Kelce could be the mayor, but he doesn't have the cash
ADVERTISEMENT
Article continues below this ad
2x Super Bowl champion Travis Kelce gave the upper hand to his Eagles center brother when it came to future NFL team ownership. "I think you got a better chance than me, for sure. You're like the mayor of Philadelphia," Travis said. However, Jason was more pragmatic about the outcome. "There's no way they are offering a percentage of the team….. Or a chance I can afford it," Jason Kelce said.
The Philly pass protector guessed Brady's investment to be in the eight or nine-digit bracket. As high as that sounds, the brothers quickly realized that a $100 million investment is only 2% of an organization worth $5.1 billion.
Let's look at Travis and Jason Kelce's career earnings and see if the duo can afford a team.
Over his 12 years in the league, Jason Kelce has amassed over $70 million in career earnings, including a $14 million payout in 2022. In 2023, Jason has an average salary of $14.25 million, bringing his average monthly payout to around $1.1 million. Travis, on the other hand, has a $20 million net worth and an average salary of $14.312 million, netting his monthly at $1.5 million. On top of that, TK87 is known for his lavish spending. Even if the brothers combined their finances, it will certainly be a mammoth task to match up to $250 million worth Tom Brady.
Travis criticized the Patriots for not bringing Tom Brady in
ADVERTISEMENT
Article continues below this ad
The outspoken Travis Kelce was pretty surprised with Brady going with the ownership of the Las Vegas Raiders. Especially when he shared such a rich history with the New England Patriots. TB12 and the Patriots won 6 Super Bowl championships in two decades. However, Robert Kraft's organization didn't call for their iconic QB when it came to ownership.
"That's crazy you don't let the most decorated NFL football player of all time get an opportunity to get a minority stake in the team that he pretty much did it with," Travis Kelce said.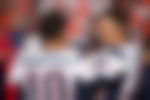 This is Brady's second partnership spell with Mark Davis, as Brady also became a minority owner in the Davis-owned WNBA franchise, Las Vegas Aces. So, it does make sense from a business perspective. Can Brady win his eighth ring at Sin City and pin his hopes on his former backup Jimmy Garoppolo?
ADVERTISEMENT
Article continues below this ad
WATCH THIS STORY: Gisele Bündchen's old video confirms her Tom Brady marriage collapsed in just 100 days
Edited By: Abigail Kevichusa