'Ego and Pride': Baker Mayfield Makes Unexpected Claims About Odell Beckham Jr Amidst Trouble in Cleveland
Published 11/04/2021, 4:11 AM EDT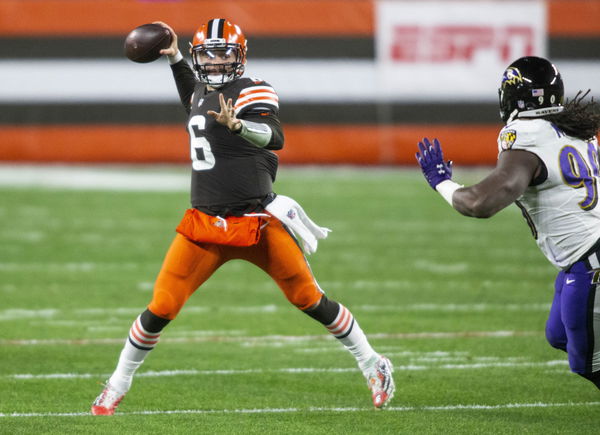 ---
---
Odell Beckham Jr has riled up quite the drama in Cleveland. The Browns' wide receiver extraordinaire has had a pathetic season, capped off with trade rumors. Las Vegas, New Orleans, are some teams assembled to pick him up, but his teammate isn't ready to give up on him. Cleveland Browns' quarterback Baker Mayfield spelled out exactly how to deal with OBJ.
ADVERTISEMENT
Article continues below this ad
Baker Mayfield talks about Odell Beckham Jr
ADVERTISEMENT
Article continues below this ad
Earlier this week, Odell Beckham Sr, OBJ's father, took to Instagram to post an eleven-minute clip of Baker Mayfield deliberately ignoring OBJ on the field. The fact that Mayfield's completion rate to OBJ has been the lowest, supplements this claim. Of course, Mayfield had to save face, and talked about the issues with OBJ that the media have brought up.
In a painfully honest pre-game conference, Baker Mayfield cleared the air about his issues with Odell Beckham Jr. Starting with the video his father posted on Instagram, Mayfield took the claims and knocked it out of the park. Few can question his integrity after the aforementioned press conference.
 

View this post on Instagram

 
"Naturally, he wants his son to succeed. I can't blame him for that. I want Odell to succeed. That's where we were at — or at least so I thought. I've had conversations with his dad before, man-to-man, face-to-face, and I was pretty surprised by the video and the intentions and the feelings behind it. I would be lying if I said otherwise." (H/T ESPN)
"If he's back, then we'll work through it and do whatever it takes. I can put my ego and pride to the side to win. Because that's all I care about is winning. If not, then we'll roll with the guys we have out there. And those guys will know that I completely trust them, and they'll know that I'm always here for them, and that's the leader and the type of quarterback I am."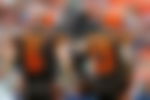 Can the Browns hold of Cincinnati amidst OBJ issues?
ADVERTISEMENT
Article continues below this ad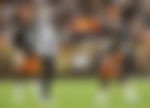 As if losing their star WR wasn't bad enough, the Browns face stiff competition in their next fixture. Week nine marks an important point in the season, and there's no worse opponent for Cleveland than Cincinnati Bengals. The Bengals are awfully similar to Premier League side Manchester City. After a harsh loss, the next team to face City is in for a trashing.
Joe Burrow looked visibly frustrated with the Bengals offense against New York Jets. The Jets spanked them, with rookie QB Mike White channeling his inner Peyton Manning, outperforming Burrow. But now, the stick shifts from a rookie QB to a journeyman QB. Case Keenum is one to watch out for during the Bengals fixture.
ADVERTISEMENT
Article continues below this ad
Keenum aided the Browns in their post-injury win against Denver Broncos. Unfortunately, the wheels came off when the Browns faced Pittsburgh, and Mike Tomlin's side fought to a well-deserved victory. Now, the pressure falls on the Browns to shake off the OBJ nonsense and put on a strong performance. If not, the Bengals will tear them apart.