"Ego Wants to Be Like…": Darkness Retreat, Ayahuasca and Aaron Rodgers Disassociation With Clearing Misunderstandings
Published 03/13/2023, 3:21 PM EDT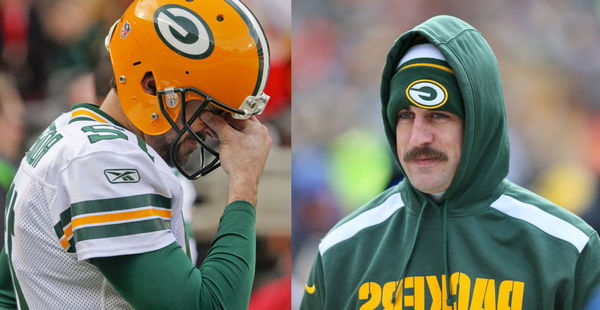 Aaron Rodgers and his future in the NFL feel like a chapter straight out of a novel. With no solid updates on what the Green Bay Packers QB thinks about his NFL career, Rodgers has been in the news for other aspects of his life. He was in the limelight of the NFL world once again after news of him being a part of 'the Largest psychedelic gathering in history' took off. This brought in criticism for the quarterback from the fans, as they are patiently waiting to see and hear about Rodgers' next step in the NFL.
With news of his darkness retreat, ayahuasca, and dissociation being the topic of discussion regarding Rodgers, he recently spoke up to clear the misunderstandings among fans in the NFL world.
Aaron Rodgers clears the air surrounding him
ADVERTISEMENT
Article continues below this ad
While recently speaking to Brandon Marshall for I Am Athlete, Aaron Rodgers talked about how he is currently on a spiritual journey in life to find enlightenment. After the darkness retreat, Rodgers has been trying to show up as a better man in the world. And it is not just in terms of him as a footballer, but also a more holistic approach towards his own life in totality.
When Marshall asked if Rodgers felt misunderstood by his fans, he said, "I think when you're misunderstood, it's stuff out there that you do is apparently false. The ego wants to be like 'No you're wrong!' You don't know what you're talking about. But the peace of mind allows you to not care so much about that. Because I think we all really care about how we're viewed. So it's not that we don't care about what people say, it's which people."
ADVERTISEMENT
Article continues below this ad
It is still a question with lingering doubt whether Rodgers will return to the Packers for another season. But with the speculations arising that the New York Jets might be the next home for the quarterback, it will be interesting to see what the final decision of Rodgers will look like.
The Rodgers saga still continues
Until the 39-year-old QB says something himself, the drama behind his NFL career will still linger in the NFL world. As stated to Brandon Marshall, Rodgers said that his final decision will come 'soon'. 
ADVERTISEMENT
Article continues below this ad
 The Jets are already making arrangements for the arrival of their future number 12. Meanwhile, the Packers are praying that Rodgers decides to stay. As the A-Rod drama reaches its peak, fans will finally get clarity in the coming days.
Watch this story: Breaking down the most likely landing spots for Aaron Rodgers if he leaves Green Bay Packers
Edited By: Deepika Bhaduri