'Eli Was Right': NFL Legend Eli Manning Reacts to Infamous 'Double Bird' from Philadelphia Eagles Fans
Published 12/23/2021, 6:30 AM EST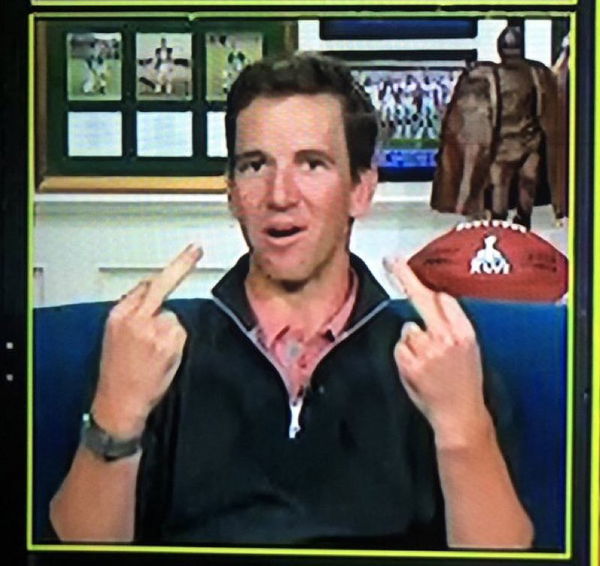 ---
---
The highlight of football never fails to entertain us, and It has done it again. The Monday night Manningcast has been the most talked-about show of the season. Legendary NFL players Eli and Peyton Manning host the broadcast on ESPN. It never ceases to amaze the fans. From highlights and expert comments on weekly football to hilarious moments, we can find it all on the Manningcast.
ADVERTISEMENT
Article continues below this ad
People usually tune in to the cast to watch the hilarious shenanigans of the Manning brothers. In a September broadcast of the show, Eli Manning addressed the Eagles' fans used to treat him. On Tuesday, he finally found the proof to back up his statement.  
The story of the Bird from Eli Manning
ADVERTISEMENT
Article continues below this ad
The Philadelphia Eagles were set to face the Washington Football Team on Tuesday night. In the fourth quarter, the score was Washington 17 and Eagles 27. The cameraman took a shot of the Philly fans cheering their team. But while doing so, he captured a unique way for a fan to pose for the camera. A fan with a black Eagles hoodie and a Santa Claus hat was clapping. But suddenly, he stopped and put both his middle fingers up to flip the camera. 
Eli Manning noticed this moment, and it reminded him of how the Eagles' fans treated him. He said that many 9-year-old kids would often give him the bird. In an episode of the Manningcast in September, Eli did something which he had to apologize for later. Eli Manning stuck both of his middle fingers up. Later he said, "Alright, alright, sorry," Eli adds, "Earlier, I gave the double bird. I guess that's frowned upon, so I apologize if I offended anybody. I thought — that a 9-year-old did to me, I thought I could do it back." 
ADVERTISEMENT
Article continues below this ad
Manning's hilarious response on Twitter
ADVERTISEMENT
Article continues below this ad
After the double bird by the Eagles fans, somebody tweeted it and said, "[Eli Manning] was right." Manning saw the tweet and replied, "I told you so!!" This is a classic example of Eli's hilarious tweets. The older Manning brother is known for being goofy and awkward compared to Peyton. But the Manningcast is where he truly shines. On Mondays, we see Eli Manning's humor and personality on full display. The funny antics of Eli always make the Manningcast even more enjoyable to watch.