Emotional Eric Weddle Opens Up on Halting Retirement for Super Bowl Ring With Rams: "I Left My Real Life for Five-and-a-Half Weeks and Now I'm Back in the Real Life"
Published 02/18/2022, 10:22 AM EST

Follow Us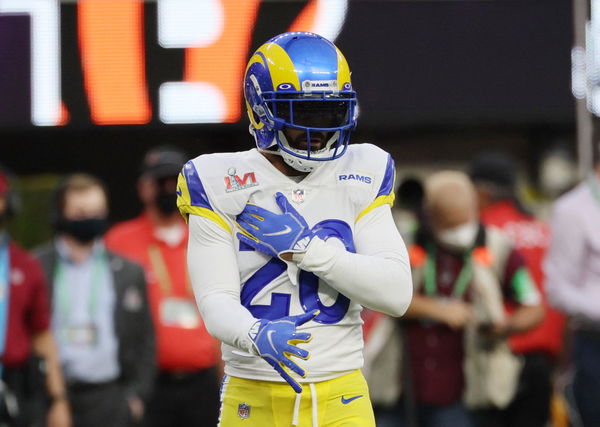 Los Angeles Rams safety Eric Weddle had a dream come true moment in just five and a half weeks. He won his first Super Bowl after coming out of retirement after two years and then getting welcomed by the Rams for the 2022 postseason. Weddle could not have asked for a better wish than a heroic cameo in the playoff.
However, that Lombardi Trophy did not come without a sacrifice. Weddle tore his left pectoral muscle in the first quarter of the game. But he showed his toughness and played through the entire game to claim his first title. The 37-year-old also called plays for the Rams defense and his intelligence was widely recognized after the game.
ADVERTISEMENT
Article continues below this ad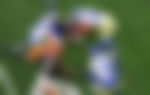 The story of the veteran safety is worth telling. Weddle announced his retirement from the sport on February 6, 2020. During his 13 seasons in the league, he played for the San Diego Chargers (2007-2015), Baltimore Ravens (2016-2018), followed by a one-season stint with the Rams in 2019.
Eric Weddle on his return to real life after winning Super Bowl
Though he has several accolades under his belt, he never had the opportunity of claiming the title. The six-time Pro Bowler decided to lay off his NFL career to spend some time with his family after picking up a knee injury. However, fate had other plans. The Rams headed to the playoffs depleted in the safety role.
Their No. 1 safety Jordan Fuller picked up a season-ending ankle injury during his season finale matchup against the San Francisco 49ers. While Taylor Rapp was placed into the concussion protocol leaving the Rams in desperate need of some experienced feet. The Rams turned to Weddle to sign him out of retirement for the playoff run. And the rest is history.
Beating the regional rivals Arizona Cardinals in the Wild Card to ending the career of Tom Brady in the Divisional Round; winning against the Niners in the NFC battle to claiming the Lombardi Trophy against the thrilling Bengals, Weddle has seen a lot of action in these past five and a half weeks.
ADVERTISEMENT
Article continues below this ad
However, now that the 37-year-old has done it all, he decided to return to retirement after giving the NFL a glimpse of his remarkable athleticism and leadership. "It feels like a dream that I left my real life for five and a half weeks, now I'm back in real life. Only to be reminded by my pec that isn't there, getting fixed tomorrow," Weddle said.
ADVERTISEMENT
Article continues below this ad
It was a heroic return for the veteran who defeated all odds to make the Super Bowl at last.
Watch This Story: Shocking News Emerges As Aaron Rodgers and Shailene Woodley Call off Their Engagement