"Even as a Chiefs Fan This Is Such a Bad Take": Former Player Turned Analyst Loses All Credibility After Strong Take On Justin Herbert Gets Him Trolled Heavily
Published 11/24/2022, 6:30 AM EST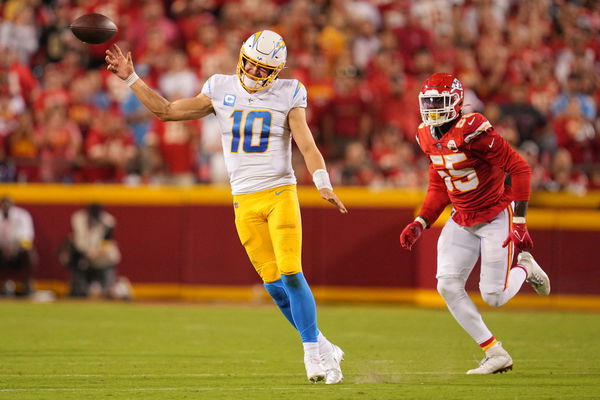 Fans love strong takes. But sometimes it backfires immensely. Former NFL linebacker Emmanuel Acho got to know this the hard way. His take on the Los Angeles Chargers QB Justin Herbert after the franchise's heartbreaking loss to the Kansas City Chiefs faced severe criticism on social media. The Chargers responded too, but the fans took the matter into their own hands. 
Herbert threw an interception late in the fourth quarter, which allowed the Chiefs to win. But was Acho's criticism good?
ADVERTISEMENT
Article continues below this ad
NFL world defends Justin Herbert
Emmanuel Acho had some harsh words to say about Justin Herbert's performance. He called the Chargers star a "social media quarterback." Thus started the social media carnage. The Chargers shared their response through a video on Twitter. The video tried to refute Acho's claims in a not-so-serious manner. But that was not all. NFL fans came out in defense of the QB. Even the fans of the Chiefs, Chargers' division rivals and benefactors of the interception, shredded Acho to pieces. Here are some fan reactions.
ADVERTISEMENT
Article continues below this ad
 A Chiefs fan of all didn't agree.
I mean even as a chiefs fan, this is such a bad take 😂🤦🏼‍♀️ Herbert is great.

— Lexi (@lexiosborne) November 23, 2022
A fan shared Acho's old tweet about Baker Mayfield to tell him that he is wrong.
For this fan, it was an all-time bad take.
Another fan took a more direct take at Acho himself.
This guy has mentioned Herbert more than he has career tackles

— FEEDJOSHJACOBS😈 (@SomeRaiderfan19) November 23, 2022
This fan had no words, just a meme for Acho.
This fan had a lot to say.
I'm a Fins fan and I have supported Tua since Day 1. I also live in the west coast so. I can tell you that Hubert is an introvert. This is kinda of disrespectful to any professional that puts their life efforts into their profession. Media out of control with the disrespect.

— Christian Espinosa (@endsocialmidia1) November 24, 2022
The Fox Sports analyst might have to rethink his stance on Herbert after this.
The heartbreaking loss
ADVERTISEMENT
Article continues below this ad
The Chargers had a decent season so far. They are still in playoff contention and could have closed the gap on the Chiefs with a win in week 11. But the game ended for them in a heartbreaking fashion. 
The Chiefs were up 30-27 with less than 20 seconds to go on the clock. A second and 15 on their own 20-yard line. The Chiefs' defense had sacked Justin Herbert on the previous play. This time Herbert threw it long, but the Chiefs linebacker, Nick Bolton, intercepted it to win the game.
ADVERTISEMENT
Article continues below this ad
Herbert had a good overall game, though. The QB threw 23 completions for 280 yards and two touchdowns. The defense intercepted only one of his 30 pass attempts. But it was crucial. The Chargers are second in the AFC West table behind the Chiefs with a 5-5 record after 11 game weeks. How far can they go this season? Will Herbert lead a late Chargers charge this season?
Watch This Story: Deshaun Watson stinks up the field with a forgettable performance in his first Browns appearance
Edited By: Gurjyot Singh Dadial