Even at the Age of 31, Cameron Newton is Still a Formidable Quarterback
Published 05/11/2020, 3:00 PM EDT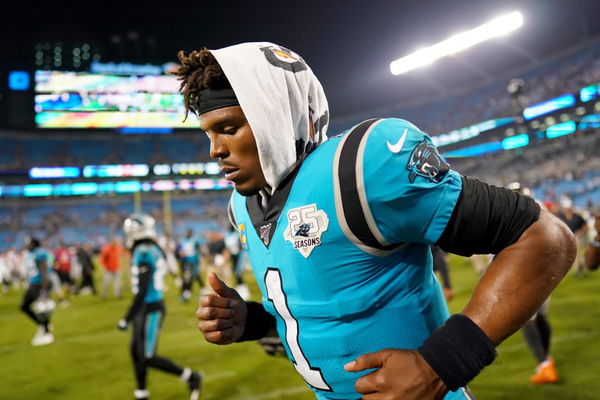 ---
---
NFL quarterback Cameron Newton turned 31 earlier today and is regarded as a highly respected QB. To mark the occasion, the NFL gifted the 2015 league MVP with a highlight reel from his run to Super Bowl 50. The primary objective was to celebrate his contributions to the league, as well as some of his biggest plays from a 15-1 season.
ADVERTISEMENT
Article continues below this ad
Sadly, his later career has been blighted with injury, so the Carolina Panthers released him and he is now a free agent. To this day, many fans on social media declare that Newton needs to be on a roster ahead of the 2020 season.
On the other end of the scale, other say that the Denver Broncos "ended his career" during the Super Bowl 50 loss. Newton currently does not have a team, which surprised many fans. At only 31 years old, the expectation is that the former MVP would make multiple teams immediately better.
ADVERTISEMENT
Article continues below this ad
He has the arm strength and the running ability to keep defenses on their heels. The New England Patriots, the Chicago Bears and Miami Dolphins are among those that fans believe could use Newton's help.
ADVERTISEMENT
Article continues below this ad
Is this the end of the road for Cameron Newton?
Most of the injury woes took place during the 2018-19 season and he was on and off the field several times. During week 3, he had to pull out of a clash with the Arizona Cardinals due to a Lisfranc fracture. Later in the year, the Panthers released him from his contract. They also allowed him to pursue other teams for a potential contract.
ADVERTISEMENT
Article continues below this ad
Sadly, nobody took the bait and poor old Cam Newton was left high and dry. Speaking about Newton, general manager Marty Hurney said, "Cam has meant a lot to this organization and the Carolinas. Everyone saw his performances on the field. I had the privilege of seeing how hard he worked off the field. His commitment to this team when no one was watching. He's the ultimate competitor and it physically hurts him to lose."
"He willed this team to victory on many occasions. Newton will always be considered one of the greatest players in the history of this franchise. His contributions to this team, this community and the game of football will leave a lasting impact on our organization."