Ever-Improving Defense Will Help the Aaron Rodgers-led Green Bay Packers' Greatly in Playoff Run, Feels Former NFL Head Coach
Published 12/22/2020, 3:15 AM EST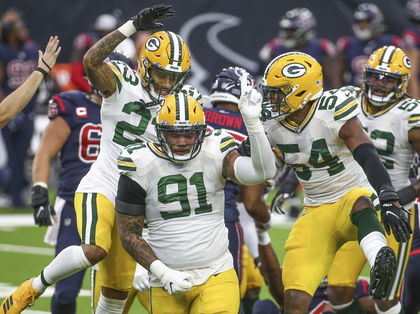 ---
---
The Green Bay Packers have been an offensive juggernaut this season, with a reinvigorated Aaron Rodgers in the pocket. With 40 touchdowns this season, Rodgers became the first QB in history to have 3 seasons with over 40+ touchdowns.
ADVERTISEMENT
Article continues below this ad
While the offense has been setting the league alight, one aspect of the Packers' game that has really picked up in the past few gameweeks is their defense.
While time and again, the offense has single-handedly led the team to a win, it was the team's defense that helped them eke out a win against the Carolina Panthers on Saturday.
ADVERTISEMENT
Article continues below this ad
However, the Packers' defensive performance has not gone unnoticed. NFL Head Coach Rex Ryan lauded the efforts of the Packers' D-line.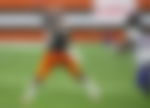 Balanced game key to Green Bay Packers' playoff success
Rex Ryan, during a segment of ESPN's Get Up, talked at length about the Packers' ever-improving defense. With the NFC top seed still up for grabs, Ryan said the Packers' defense has it in them to clinch the all-important top spot.
"I think, more than any other year, it is critical this year (to clinch the NFC number 1 seed). And I feel they're (Green Bay Packers) gonna have it. 
"There's no question they're gonna finish out the season and they're gonna have the number one seed in the NFC… When you're talking about their defense, I'm seeing this defense getting better and better and better," said Ryan.
The former New York Jets head coach also highlighted the importance of having a balanced team heading into the Playoffs.
"When that defense is anywhere close to their offense, watch out, because a balanced football team off a bye in the Playoffs are going to be tough," he said.
Faltering offense endures the occasional blip
The Green Bay Packers had to fight hard against the Carolina Panthers on Saturday. After scoring in the starting drive, the offense failed to score a single touchdown in the second half.
While the Packers' running game looked as strong as ever, the aerial route failed to get going against the Panthers.
ADVERTISEMENT
Article continues below this ad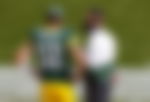 With Rodgers being in the form that he is, the 1 touchdown performance against the Panthers was a rare off-day for the veteran QB. Rodgers' form has been such that he is currently in the race to be crowned MVP this season.
With 40 touchdowns, an average pass completion rate of close to 70%, with barely 4 interceptions all season, no wonder the Rodgers-led offense is one of the most terrifying in the league.
ADVERTISEMENT
Article continues below this ad