Minnesota Vikings Player Calls 911 After Releasing Bizarre Social Media Clip: 'I'm in My House. N—– Trying to Pop Me'
Published 11/25/2021, 2:53 AM EST
---
---
Minnesota Vikings came off a wonderful weekend, beating Green Bay Packers in resounding fashion. However, the tables quickly turned after one of their players took to social media to post a disturbing video. Vikings DE Everson Griffen posted a video on Instagram where he waved a gun and apparently claimed there were people after him.
ADVERTISEMENT
Article continues below this ad
Minnesota Vikings player in deathly situation
ADVERTISEMENT
Article continues below this ad
At 6'3, Everson Griffen is a mountain of a man, but his recent activity left everyone feeling dumbfounded. Confusion and chaos reigned supreme as Griffen claimed there was someone in his house trying to kill him. To defend himself, Griffen pulled out a licensed firearm and even took a video, waving it around.
"I'm in my house. N—– trying to pop me. I've still got clips left. This is my gun .45 Wilson Combat registered to me. I bought all my bullets around town. Dalvin Cook helped me purchase this gun. It all belongs to me, and they are registered to me. I know exactly where I bought them, I've got the card I have them on. I have everything."
While name-dropping a teammate is bad enough, the situation required urgent law enforcement engagement. Fortunately, the authorities responded to a 911 call from Griffen's agent, Brian Murphy. The authorities claimed Griffen was alone at home, but given his situation, they provided him with all the medical attention he required.
The Vikings put out a statement addressing the incident with the 4x Pro Bowl DE. "We are thankful to the Hennepin County Sheriff's Office, the Carver County Sheriff's Office, the Minnetrista Police Department and the Orono Police Department for their quick response and dedication to ensuring the situation ended peacefully. Our focus remains on Everson's health and safety and providing the proper resources for him and his family."
What did Dalvin Cook have to say?
ADVERTISEMENT
Article continues below this ad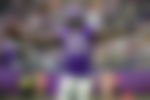 Minnesota Vikings' hard-hitting RB Dalvin Cook has been their rock this season. Alongside the young Justin Jefferson, Cook has gained enough rushing yards to make him a favorite for the 2021 Pro Bowl squad. However, this situation involving Everson Griffen is something he would've wanted to avoid.
He responded to his name being brought up in the video. "Since I got here, he was one of the older guys that took me under his wings and taught me, 'This is what you don't do, this is how you do it, this is how you take care of your body. Just how to be a pro. Appreciate him for that, for the little things he did. Since he got back, our relationship has gotten stronger."
ADVERTISEMENT
Article continues below this ad
"He's been trying to win games. We've been on the same mission, all of us, just trying to win games, trying to get better, trying to lead this team in the right way. So we are definitely close. That's my brother. I just want him to be OK. In his mind, make sure his family is OK. I just want what's best for Everson overall."