"Everybody Fall Back": Lamar Jackson Addresses Rumors Of His Newest Addition to His Family
Published 11/20/2022, 6:30 AM EST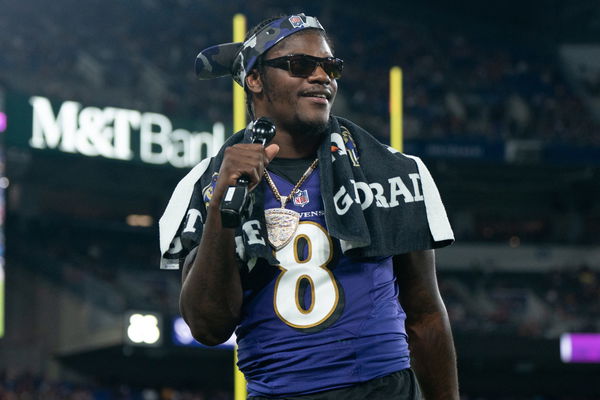 Baltimore Ravens Lamar Jackson rarely hogs the spotlight. The only reason Jackson is in the spotlight these days is for his contract standoff. It is the only thing one can think of to associate with him, other than his amazing on-field performance. The contract dispute has been going on for almost 2 years. But one aspect that Jackson remains very secretive about, and one that fans often overlook, is his family. And it seems his secretiveness has altogether backfired on him after he posted an Instagram story of him with what many assumed at the time to be his newest daughter.
ADVERTISEMENT
Article continues below this ad
Jackson's IG story sparked shockwaves in the NFL community. And this is not the first time he has done this either. Earlier this year, he shared pictures from his daughter Milan's first-year birthday. Before then, no one (except the ones he chose to tell, of course) that he even had a daughter! Although he hasn't yet disclosed who the mother is, the fact that he has a family kept under cover is itself surprising.
ADVERTISEMENT
Article continues below this ad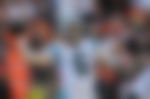 But it seems, the community has been wrong all along. Contrary to what people believed, it seems the baby in Jackson's story is not his daughter after all! Rather, she is his God-daughter. Jackson clarified the misinterpretations by people after receiving what we can only assume to be a flurry of congratulatory messages for his "newborn daughter".
Everybody Fall back that's my God Daughter But thank you lol💜💜

— Lamar Jackson (@Lj_era8) November 19, 2022
The QB made sure to thank everyone who wished him well, in his clarification Tweet.
Fans embarrassed after Lamar Jackson disperses rumors of a second daughter
Lamar Jackson's tweet left many fans red-faced after they realized they might have jumped the gun a bit too soon. Some even took the opportunity to draw some jokes on the QB's revelation, sending fans into a laughing fit. One even featured a line from Michael Jackson's 'Billie Jean'. But there were a few who spoke what was on everyone's mind: Jackson can't just post photos without clarification, and expect the community to not explode. But hey, he's 'Godfather' now, he can do anything, right?
I just wrote an entire story based on your tweet dear…and u removed it…

— Deepesh Nair (@deepeshhere06) November 19, 2022
Right! Too funny! I was cursing everyone our talking about my QB!

— Its Me! (@mikobee813) November 19, 2022
Yeah I think that how he intended for it to be😂 no one really knew until she was like 1 fr 💀😂

— Nakiyah Mooring (@KiyahBABY_) November 19, 2022
He missed practice yesterday due to "illness" according to Harbs. But then he posted a video of him holding a newborn baby girl

— Groovy ☔️ (@groovyykidd) November 19, 2022
Ohh!! C'mon bro ya can't post something like that with no further caption (other than two purple hearts) and not expect folks to think she's yours 😂 But congrats anyway tho!!

— Bryan Alston (@BryanA440) November 19, 2022
ADVERTISEMENT
Article continues below this ad
ADVERTISEMENT
Article continues below this ad
Another interesting thing to note is how Ravens' head coach John Harbaugh covered for Jackson's absence from Friday's practice. Harbaugh told reporters that Jackson missed practice owing to an "illness". Hours later, Jackson posted a story with his God-daughter. With his illness rumors now cleared, fans will hope Jackson will be able to channel the happiness from this significant event in his life and destroy the Carolina Panthers this Sunday.
Watch This Story: NBA world gives massive shout out to Lamar Jackson and asks Baltimore Ravens to break the bank for unanimous MVP
Edited By: Gurjyot Singh Dadial