'Failure of Execution:' San Francisco 49ers Coach Kyle Shanahan Takes Full Responsibility for Poor Performances
Published 11/10/2021, 8:07 AM EST
---
---
Losing to the Colt McCoy led Arizona Cardinals at home is surely going to attract criticism for the San Francisco 49ers. They have been a lacking team throughout this season, with and without their starting quarterback Jimmy Garoppolo. And hence the inefficiency of the players is to held accountable to the coaching staff.
ADVERTISEMENT
Article continues below this ad
Above all, it should be the responsibility of head coach Kyle Shanahan to bring fruitful results from his 53-man roster. And so during Monday's conference call, Niners head coach said, "I know we're a 3-5 team right now. I believe that we should be a better team than that record, and I know that starts with me."
ADVERTISEMENT
Article continues below this ad
Kyle Shanahan admits his flaws publicly
The head coach, during the conference call with the local media, publicly stated his shortcomings as the coach and that he has to get better.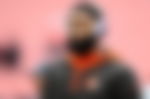 "Failure of execution starts with me," Shanahan said. "When plays don't work, no matter how it happens, it starts with the coaches. There's tons of things that I can do better, so don't get misinterpreted by that at all because that's not even close to what I'm saying. Whether you're running the ball or whether you're throwing the ball, coaching your guys to execute a play, starts with coaching and then it leads to playing. So that goes hand in hand."
ADVERTISEMENT
Article continues below this ad
San Francisco 49ers lack in efficient coaching
The 3-5 record of the Niners has left them in ruins this season. The franchise uncomfortably hangs in the last place of the NFC West, and in order to make the playoffs, the team has to bounce back big time with all odds in their favor.
ADVERTISEMENT
Article continues below this ad
The biggest disappointment for Kyle Shanahan was losing to the Cardinals who were without Kyler Murray, while the Niners had the advantage of their starting QB Jimmy Garoppolo while playing at home. With this been said, there surely is a big lacking in the Niners coaching method which they need to fix ASAP.