Fastest NFL Player Tyreek Hill Reveals Bizarre Unofficial 40 Yard Dash PB Compared to NFL Legend Bo Jackson
Published 05/13/2022, 7:30 AM EDT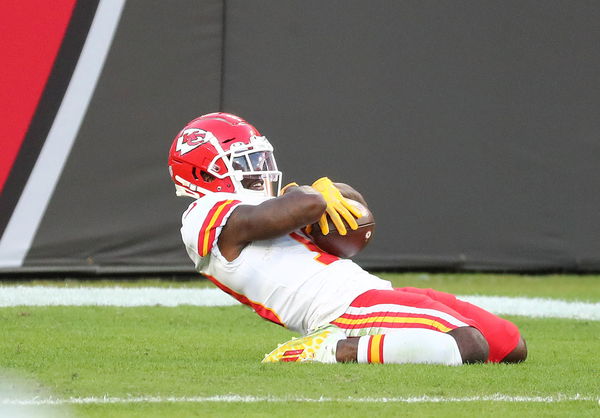 The Cheetah Tyreek Hill was a guest on the recent edition of Cold as Balls. It is a YouTube show hosted by comedian Kevin Hart. During the show, he invites various celebrities and makes them take an ice bath. It is fun to see our favorite entities give us an insight into their lives through this interview. 
During the episode, we learned a lot about the fastest wide receiver in the league today. Doing an interview with Hill, Kevin Hart had to ask about his speed. But what we learned was a shock to many. It turns out Hill has an impressive 40-yard dash record. But he is not the fastest in history. 
ADVERTISEMENT
Article continues below this ad
What is the 40-yard dash record of Tyreek Hill?
Back in his junior high school years, Tyreek Hill used to run track. That might be the foundation for him becoming one of the fastest NFL players in history. Currently, he is the fastest in the league. But someone else holds the record for the fastest 40-yard dash in the NFL.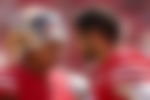 Kevin Hart asks Tyreek Hill about how fast he ran the 40-yard dash. Hill replied, "I run a 4.21." Hart is shocked. He asks the Cheetah, what is the record for the 40? Hill says, "Bo Jackson, 4:15." While explaining why he is so fast, Hill gave a shout-out to his grandma and her secret recipe. That recipe is the reason the fastest wide receiver in the league today is terrifying the defenses. If the athlete keeps on practicing his run, he might one day even beat the record set by the legendary Bo Jackson. 
Who is Bo Jackson?
ADVERTISEMENT
Article continues below this ad
Hailing from Birmingham, Alabama, Bo Jackson is a former running back and professional baseball player. He played in the NFL from 1987 to 1990. Jackson was a part of the Los Angeles Raiders, who we better know as the Las Vegas Raiders today. Jackson is the only athlete in history to be an All-star in both football and baseball.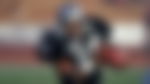 ADVERTISEMENT
Article continues below this ad
Throughout his football career, Jackson appeared in 38 games. He rushed for a total of 2,782 and scored 18 touchdowns. The legendary RB is better known for his 40-yard dash record, which is still unbroken to this day. Tyreek Hill is only a few seconds short, but Jackson is still the GOAT.
Watch This Story: Tom Brady vs Aaron Rodgers, Patrick Mahomes vs Josh Allen: Top 5 Must Watch Matchups of the NFL 2022 Regular Season