"FIRE NAGY!" Chants At Full Effect After Chicago Bears Week 15 Loss Against Minnesota Vikings
Published 12/21/2021, 4:45 AM EST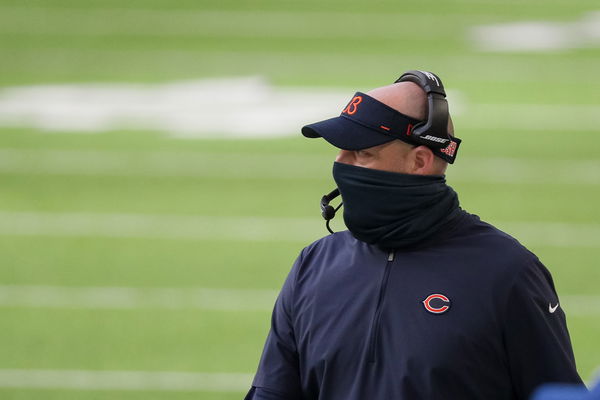 ---
---
Chants have always been a tradition of any sport, especially in football. But the chant that has been the staple of Soldier Field is "Fire Nagy". It seems like we can not get through an NFL week without it. We can hear the Chicago Bears fans screaming those two words during and after every game, and they really want Matt Nagy out. 
ADVERTISEMENT
Article continues below this ad
Maybe it is time that the Bears management listens to the fans as well. The fans were loud last night after the Bears lost their week 15 game against the Minnesota Vikings. There was no taming that crowd. They have had enough of the head coach Matt Nagy. 
Chicago's 10th loss of the season
ADVERTISEMENT
Article continues below this ad
After the COVID-19 outbreak, the match between the Bears and the Vikings was rescheduled to Monday. Somehow the Bears and Matt Nagy could somehow throw together after 18 of their players were on the COVID-19 reserve list. That includes eight starters as well. Chicago came to fight after losing their last two games. They wanted redemption. 
The Vikings were on a high road after winning their last game. Minnesota assumed that it would be a simple walk in the park. Both the teams had a decent showing. But none of them came on top like a dominating winner. 
The entire game can be summed up in one play during the third quarter. The Bears were losing terribly with a score of 17-3. Chicago blocked a punt and we're in a good position. The quarterback Justin Fields was looking to make a play. He ran with the ball but was sacked pretty brutally. The entire Vikings' defense climbed over him. The hopes of making any play were out after that. 
Is this it for Matt Nagy?
ADVERTISEMENT
Article continues below this ad
The Chicago Bears fans are getting louder and louder every week with the "Fire Nagy!" Chants. And they will not stop until the Bears management listens to them. The Bears are in one of their worst seasons. They have only won four games this year. Their dreams of making it to the playoffs have been long gone.
ADVERTISEMENT
Article continues below this ad
Was last night's result entirely to be on the head coach or the COVID outbreak? Has Matt Nagy been given enough opportunities to prove himself? When will the Bears management listen to the fans? Currently, it does seem like Matt Nagy is on his way out of Chicago.