Forehead Jokes Go Too Far as Peyton Manning's Hall of Fame Bust Undergoes Unfortunate Edit; Fans Have a Field Day on Twitter
Published 06/19/2022, 1:26 PM EDT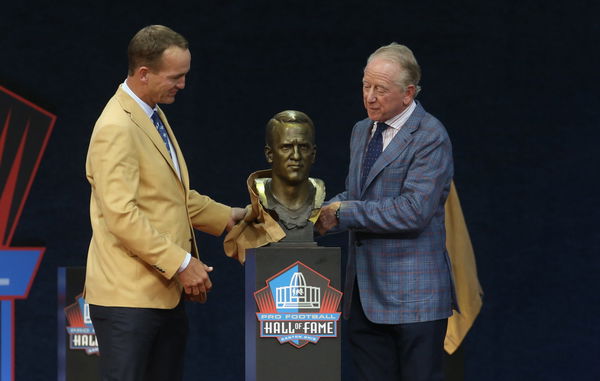 Former Denver Broncos quarterback Peyton Manning and his enshrinement into the Pro Football Hall of Fame was the highest honor of his career. One of the honorary parts was unveiling his Hall of Fame bust, which was unconvincing for some NFL fans. The lack of resemblance to the former Super Bowl champion was a sticking point, and fans on social media voiced their thoughts.
ADVERTISEMENT
Article continues below this ad
A moment that was a highlight of Manning's day, unveiling his bust in Canton, caught fans' attention, but not for the right reasons. While the sculptors might have gotten it wrong on this occasion, these sculptures have improved over the years. They have attained more accuracy, unlike Manning's bust.
ADVERTISEMENT
Article continues below this ad
The former Broncos made the bust public, accompanied by his father, Archie Manning.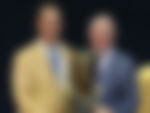 Manning enjoyed a 17-year NFL career in which he won 5 AP NFL MVPs. While also winning a Super Bowl XLI MVP. He had 14-time Pro Bowl and 7-time All-Pro selections. He retired in 2015. Manning was also the all-time passing leader with 71,940 yards before being overtaken by Tom Brady and Drew Brees.
NFL fans on Twitter shred the Hall of Fame bust of Peyton Manning
Apart from the bust, Manning gave fans a memorable Hall of Fame speech while enthralling them for 6 minutes with his witty best. He cracked jokes about his former rival, Tampa Bay Buccaneers QB, Tom Brady, and his chances against him. His speech even paid homage to his father.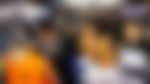 NFL fans on Twitter were less than kind to Peyton Manning on his big day.
One NFL fan was finding fictional characters to compare with Manning.
Another NFL fan compared Manning's bust with a character from the Jimmy Neutron series.
Few NFL fans struggled not to smile with all the brutal comments about Manning's bust.
Another NFL fan tried to find why his bust gave that facial expression.
He must have been constipated when he posed

— not Adam Warlock but call me that anyway (@j_toddjabrams) June 19, 2022
One NFL brought up the point of how the Hall of Fame busts have a poor record in his research.
Most of the NFL HOF busts dont look anything like the player

— Kent Watson (@windyzona13) June 19, 2022
ADVERTISEMENT
Article continues below this ad
Finally, another NFL fan suggested Manning should draw up charges for this violation.
😂😂😁😁😁😁. Good Lord. Did he sue???

— Michael (@Primantibro1) June 19, 2022
ADVERTISEMENT
Article continues below this ad
Despite the comments about his Hall of Fame bust, Manning's legacy in the game will remain eternal in fans' memory. The upcoming 2022 NFL campaign will give up-and-coming NFL QBs their chance to carve their legacy in the league.
Watch This Story: Who Did Bridget Moynahan Date After Her Split With Tom Brady? Find Out About Her Super-Rich New Boyfriend