Former All-Pro Proclaims Similar Approach Won Tom Brady His Last Two Super Bowls
Published 12/15/2020, 11:52 AM EST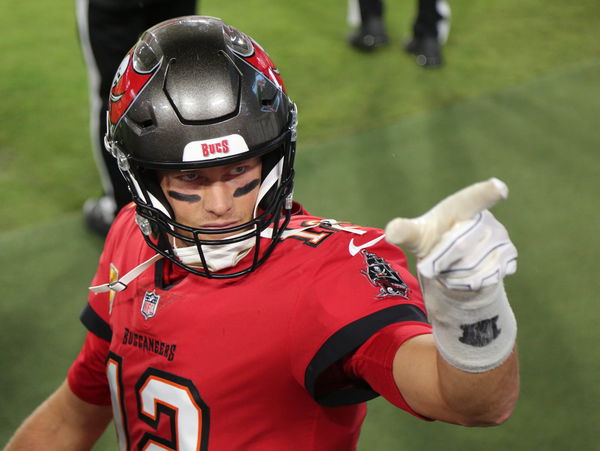 ---
---
Former NFL wide receiver Brandon Marshall during a segment of FOX Sports' 'First Things First' talked about the importance of having a balanced offense for Tom Brady and the Tampa Bay Buccaneers.
ADVERTISEMENT
Article continues below this ad
Marshall, who was a journeyman throughout his career, has played for the likes of the Denver Broncos, Chicago Bears, New York Giants, and the New York Jets to name a few. The 2-time All-Pro, ultimately, bowed out of the NFL in 2018 with the Seattle Seahawks. 
Brady's balancing act
ADVERTISEMENT
Article continues below this ad
The former Patriots line-caller had a much better outing against the Vikings as compared to his previous 2 games before the bye week.
Brady threw for 196 yards and got 2 touchdowns to his name as the Bucs chose to focus on their ground game as well. It's this right balance that helped Brady to his last 2 Super Bowls, claims the former WR.
"So what you saw (Against the Vikings), Tom Brady throwing it 23 times and handing it off 23 times. That's dangerous. That's exactly what got him the last 2 Super Bowls. It's (all about) having a balanced approach," Marshall said.
ALSO READ- "We Just Showed Our Identity"- Arians' Take on Offense as Buccaneers Shift in Strategy Suits Tom Brady
"Offensively, the Tampa Bay Buccaneers, that is the recipe… When you have Tom Brady, a smart, savvy quarterback who can still get it done, handing it off 23 times, throwing it 23 times, it opens up everything outside.
"You have all these dynamic past catchers… That's what happens when you run the ball, play-action, and who's wide open again in the end zone, Gronkowski. That is the recipe, that is the identity (the Buccaneers need)," he added.
Aaron Rodgers and Patrick Mahomes in a class of their own
Marshall said that the Kansas City Chiefs and the Green Bay Packers are the only two teams in the NFL that can afford to go for the aerial route more often than the ground game. This, he feels, is possible only because of Rodgers and Mahomes. "Two teams, two quarterbacks that can throw in more than they run it. That's the Green Bay Packers and Aaron Rodgers, if they choose to do it, they can.
ADVERTISEMENT
Article continues below this ad
"And that's also Patrick Mahomes and the Kansas City Chiefs. Everybody else, better have a balanced attack," said Marshall. 
Opting for the pass play can often lead to interceptions. Something Tom Brady has struggled with this season. To put this into perspective, Rodgers and Mahomes (9) combined have thrown lesser interceptions than Brady (11) this season.
The win against the Vikings gave the Buccaneers and Brady the push that they needed going into the final few gameweeks of the season.
ADVERTISEMENT
Article continues below this ad
ALSO READ- Aaron Rodgers Reveals How Role Players This Year Make GBP better Than Their Other Division Winning Sides