Former Buccaneers Player on Why Byron Leftwich is an Awesome Coach: 'Aye, Anybody Got Any Incentives In Y'all Contract? If Y'all Do Let Me Know Imma Get Y'all Y'all Paper Because That's What I'm All About'
Published 01/27/2022, 9:42 AM EST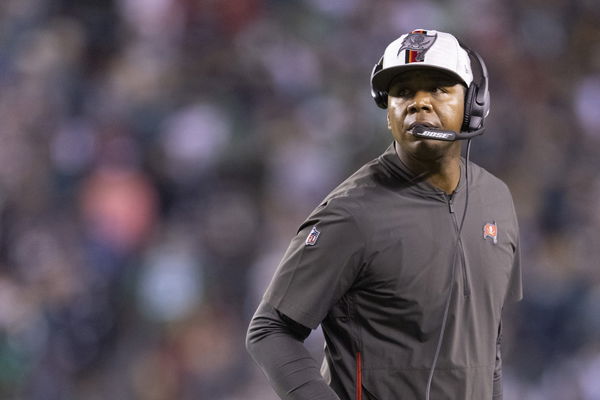 People might have questioned the coaching methods of Byron Leftwich over the years. But there is no denying that he is one of the best offensive coordinators out there. LeSean McCoy even believes the Leftwich is an outstanding coach. 
Ever since joining the league as a coach in 2017, Leftwich has become one of the favorites of the players. He is one of those coaches who try their very best to get the players their Incentives. But after this season concludes, there will be many head coaching offers for Leftwich out there. 
ADVERTISEMENT
Article continues below this ad
LeSean McCoy praises Bryon Leftwich for his player-friendly approach
LeSean McCoy is a 12-year veteran in the NFL. But the running back says that through his tenure, he has never come across a coach like Leftwich. McCoy was a guest on the 'I Am Athlete' podcast. During the podcast, he had some very kind words for Bryon Leftwich and his coaching methods. While explaining how amazing Leftwich is, McCoy said, "[Bryon] said, 'Anyone got any incentives in your contract? If you do, let me know, I'll try to get you your paper because I'm all about that.'" 
Later in the 2020 season, the Tampa Bay Buccaneers were good. They have won the NFC championship and secured a birth in the playoffs. But the WR Mike Evans was trying to meet an incentive. He was close to 1000 yards. The Bucs were facing the Detroit Lions. The season was done for Tampa Bay. But Bryon Leftwich went out of his way to get Evans his incentives. The OC drew play specifically to get the ball to Evans. 
Shady McCoy referring to Leftwich, talking about the first time he's heard a coach ask players about their incentives.

"I love this type of coach." pic.twitter.com/GqY4NJ4ZlK

— Demetrius Harvey (@Demetrius82) January 12, 2022
ADVERTISEMENT
Article continues below this ad
"I say I love this type of coach. I respect it." Said McCoy to conclude his statement and admiration for Leftwich. 
What's next for Byron Leftwich?
After playing in the NFL for nine years as a quarterback, Bryon Leftwich became a coach. He understands what it means to be a player. And that is how Leftwich has developed his coaching methods. This unique way of coaching has made him a favorite among the players. 
ADVERTISEMENT
Article continues below this ad
Leftwich's career as a coach is gaining rapid success. Currently, he is the offensive coordinator of the Buccaneers. But given his talent, we can soon see him becoming a head coach. He is a hot pick for many teams next season. 
Watch This Story: Every NFL Teams Most Disappointing Player Of The 2021 Season