Former Cowboys WR Dez Bryant Scores First Touchdown Since 2017 with Baltimore Ravens
Published 12/20/2020, 3:09 PM EST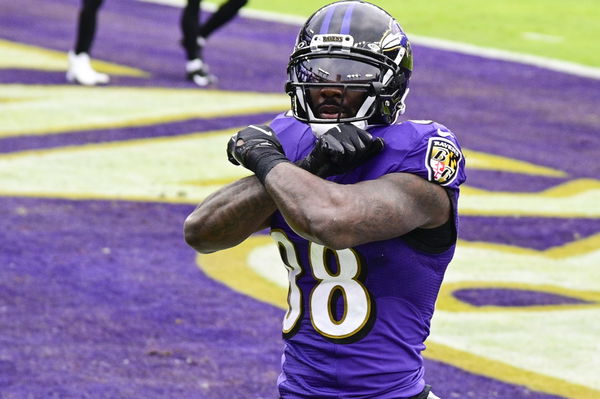 ---
---
Dez Bryant and his iconic 'X' celebration are back. The former Dallas Cowboys wide receiver, who was signed by the Baltimore Ravens for their practice squad back in October this year, scored his first touchdown since 2017 against the Jacksonville Jaguars.
ADVERTISEMENT
Article continues below this ad
Bryant made the catch during the final minutes of the second quarter to give his side an almost insurmountable lead. Dez Bryant was released by the Dallas Cowboys back in 2018 after tearing his Achilles tendon during practice.
Dez Bryant brings the 'X' factor
ADVERTISEMENT
Article continues below this ad
Bryant suffered from multiple injuries during his tenure as a Cowboys player. Many feel that the injuries simply got the better of Bryant as his age caught up with him.
After all, Bryant had gone 3 years without scoring a touchdown. His last touchdown being against the New York Giants back in December 2017. The Ravens took a chance with Bryant by signing him for their practice squad.
All that was to change though, as Bryant took to the field against the ailing Jaguars. Lamar Jackson, after scrambling at the Jaguars' 10- yard-line, bought himself just enough time to find Dez Bryant in the endzone for a touchdown.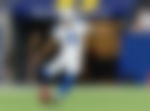 The play gave the Ravens a 26-0 lead over the Jaguars, who seem to be headed towards a 1-13 record this season. The Ravens, who are still in the playoff hunt, will look to win all of their remaining games to book a spot for themselves in the offseason.
Superstar at Cowboys 
A younger Dez Bryant was a force to be reckoned with during his stint with the Dallas Cowboys. The 3-time Pro Bowler made catching touchdowns looks easy between 2012-2014. With 16 catches in the 2014 season alone, Bryant made the All-Pro team that season.
But sadly, for Bryant, that was the peak year of his success story. Having been plagued with injuries ever since, Bryant slowly lost his pace and found it hard to be the ball-magnet that he was.
ADVERTISEMENT
Article continues below this ad
His catching percentage plummeted from 64.7% in 2014 to 52.4% in 2017, when he last played a game for the Cowboys.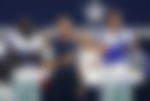 His comeback with the Ravens sure has sparked some interest in the NFL community. The combination of Lamar Jackson and Dez Bryant could wreak havoc on any defense if the two get going. Baltimore fans will hope that this is just the spark that Bryant needed to reignite his career.
ADVERTISEMENT
Article continues below this ad