Former NFL Man Refrains From Calling Trevor Lawrence a 'Generational Talent'
Published 04/09/2021, 3:30 PM EDT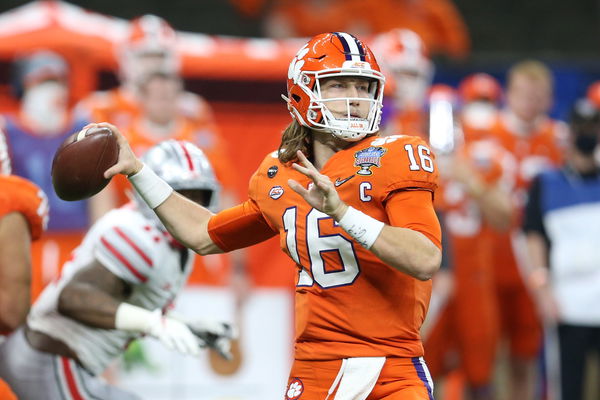 ---
---
Clemson Tigers prodigy Trevor Lawrence has been one of the most talked-about college players ahead of the 2021 NFL Draft. The 21-year old prospect is expected to go as the 1st overall pick at this year's draft event which will be held on April 29 in Ohio. The Georgia-born youngster concluded his final NCAA season with 10,000+ passing yards and 90 passing TDs over a span of three years.
ADVERTISEMENT
Article continues below this ad
Newly-appointed Jacksonville Jaguars coach, Urban Meyer, has reportedly already made up his mind with respect to Trevor Lawrence. Despite undergoing surgery on his non-throwing left shoulder, he is expected to return in time for preseason. But is the youngster ready to make a mark in the NFL or is he going to crash before he even begins to fly for the Jaguars?
ADVERTISEMENT
Article continues below this ad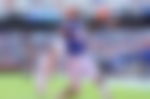 Is Trevor Lawrence worth all the hype ahead of the upcoming 2021 NFL Draft?
Former Tampa Bay Buccaneers wide receiver Joey Galloway was the latest guest to appear on ESPN's Get Up. He gave his two cents on Clemson prodigy Trevor Lawrence and asked fans to control their expectations regarding the young shot-caller.
He replied, "I don't like to use that term, because it literally depends on his situation. What pieces are around him? What is his offensive line? Like? Does he have a chance to stand in the pocket like he did at Clemson? And so when we look at Trevor Lawrence, he is a tremendous quarterback. He has all the measurables that you asked for. But because we judge guys on wins, on stats, that would depend heavily on the guys around him."
ADVERTISEMENT
Article continues below this ad
"When you look at guys in the NFL, it is like, you know, when a guy has a really good offensive line, or when a quarterback has a really good run game. They are different quarterbacks, you need these things. Because of guys like Rob Ninkovich on the other side who are very talented on the defense, you need a lot of pieces around you to be successful. If they can do that in Jacksonville, Trevor Lawrence will be outstanding,' Galloway said on the show.
Apart from Lawrence, the other quarterbacks available for grabs at the 2021 NFL Draft include Justin Fields, Zach Wilson, Trey Lance, and Mac Jones. It's a good time to be a Jaguars fan right now. But will we be able to say the same when the regular season ends in 2021?
ADVERTISEMENT
Article continues below this ad