Former NFL Champion Outlines Problems Faced By Rams' Jared Goff
Published 12/13/2020, 11:53 AM EST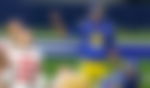 ---
---
The Los Angeles Rams are having a decent season so far and look like they can make the Playoffs this year. However, one player has been slightly inconsistent for them, quarterback Jared Goff.
ADVERTISEMENT
Article continues below this ad
While Goff has thrown for the 3rd-longest cumulative yards in the league at 3509, he has been mediocre in terms of his numbers this year.
Many have questioned Goff's inconsistency during the season. While he has had good performances, he has also had some really poor performances.
ADVERTISEMENT
Article continues below this ad
Former Super Bowl Champion Greg Jennings spoke to Colin Cowherd about Goff and the Rams this season. Jennings reflected that Goff's peak has been seen, but not his decline and trough.
"I think we've seen the ceiling for Jared Goff. But we don't really know the floor. We don't know how bad it can get. That's a little scary."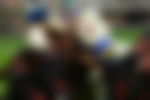 Jennings added that Goff is good when he isn't forced into being uncomfortable. Cowherd himself had made this point earlier, and Jennings elaborated on it further.
"What you said is spot on. When he's comfortable, great. When he's uncomfortable, not great. And that is problematic at that position.
"Because he is a quarterback that plays with rhythm and timing. If he gets ahead of the down, he is great. If he gets into rhythm, you get him moving out of the pocket, he's great."
Jared Goff a bit too predictable
However, Jennings noted that Goff was not adept at changing the play based on situation and set-ups from the opposition. And this stubbornness was playing to the Rams' detriment.
"But he's a guy that you can scheme up too easily because he makes decisions already premeditated. What I mean by that is when he is scanning, it doesn't mean that he doesn't go through his progressions.
"But once he goes 'one, two, three', he just shuts it down. He doesn't really evaluate the situation before letting that ball go."
ADVERTISEMENT
Article continues below this ad
Jennings noted that any defensive unit with solid linebackers and safeties can take Goff out of his rhythm with ease. "And that's where he makes a lot of his mistakes.
"And if you look at teams that have fast-flowing linebackers and safeties that can cover as well in the secondary, he struggles with teams like that. And the key is, they got to have speed."
ADVERTISEMENT
Article continues below this ad
Goff will have to become more consistent if the Rams hope to see the Playoffs through to the end. He needs to put in extra hours in the film room and on the practice field in order to overcome the challenges mentioned by Greg Jennings.