Former NFL Player Feels Russell Wilson Could Still Leave the Seattle Seahawks at the End of the Season
Published 08/11/2021, 9:38 AM EDT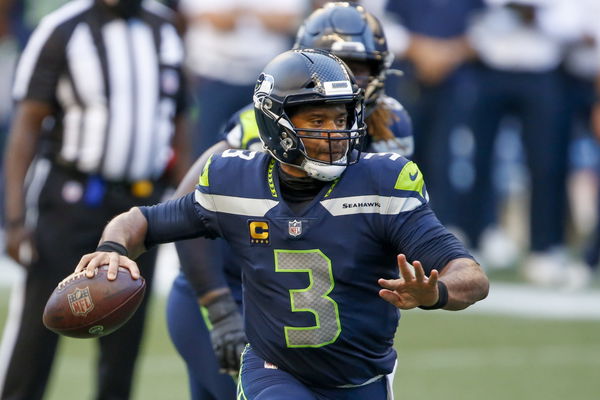 ---
---
Before trade talks regarding Green Bay Packers QB Aaron Rodgers wanting a trade took center stage, there was another quarterback who seemingly looked to be on the move. And that was none other than Seattle Seahawks QB Russell Wilson.
ADVERTISEMENT
Article continues below this ad
The Super Bowl winning QB had made his issues with the side clear during a podcast appearance. Calling out his O-line for not giving him the protection he needed, Wilson was reportedly looking to move on from the Seahawks.
Things even escalated to the point where Wilson's agent released a list of team's he'd liked to be traded to. But since then the Seahawks and Wilson seem to have reached some sort of consensus.
ADVERTISEMENT
Article continues below this ad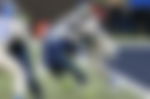 While it did put an end to rumors of the franchise QB being traded, one can't help but wonder what's truly happening down in Seattle. It's not like the franchise revamped their 0-line over the offseason like the Kansas City Chiefs. Neither did they seemingly make any changes to Wilson's contract.
While the franchise has managed to dodge a bullet for now, is the situation really as good as it seems?
Russell Wilson could leave Seattle following upcoming NFL season
Even apart from Russell Wilson, the Seattle Seahawks have contract headaches involving stars Dwayne Brown and Jamal Adams. And former NFL player Damien Woodley feels that the situation involving the two could end up influencing Wilson's decision to stay or leave.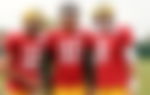 "You never want to be dealing with contract situations in training camp. But they actually got two situations that they're dealing with. Not only Dwayne Brown, but Jamal Adams, who they traded for from the New York Jets.
Two of their best players are unhappy as far as their contracts are concerned… So don't think these things aren't in the back of Russell Wilson's mind." said Woodley.
ADVERTISEMENT
Article continues below this ad
With the Seahawks unable to make any major moves due to their limited cap space, Woodley feels that Wilson could well leave at the end of the season.
"Russell Wilson has come out and said they should have the best offensive in the league. If they don't come out fine, don't think that this is not going to play out after the season is over.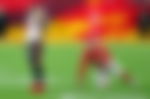 ADVERTISEMENT
Article continues below this ad
Especially, after the fact that Russell Wilson's agent put out publicly the teams that he could possibly look at to be moving towards if this whole thing doesn't play out the way he wants to this season."
Do you think Russell Wilson will stay in Seattle beyond 2021? Let us know in the comments below.