Former NFL Player Says Carson Wentz Will Have Better Year than Jalen Hurts next year
Published 03/20/2021, 2:12 AM EDT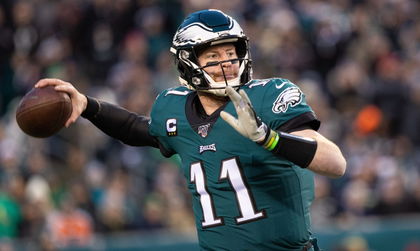 ---
---
Carson Wentz finds himself on a new team this year. After a difficult season with the Philadelphia Eagles, Wentz left to join the Indianapolis Colts in a trade.
ADVERTISEMENT
Article continues below this ad
Now, Jalen Hurts is being set up to be the new starting quarterback for the Eagles next season. Both players got their share of playing time last year, as the Eagles struggled. But which quarterback will have the best season?
Former NFL player Brandon Marshall spoke about Carson Wentz and Jalen Hurts. He believes that Wentz and the Indianapolis Colts are all set to record a good season.
ADVERTISEMENT
Article continues below this ad
Wentz has a solid crew of players around him that he can elevate with his play. Furthermore, the way the organization is working allows Wentz to not be the main focal point for the franchise.
"You have to look at how these two teams and quarterbacks are set up. Carson Wentz has a top 10 defense, he has running backs and a really good offensive line. He has a really good coach.
"Also, I love how the management approaches things. Chris Ballard, he's never going to let one guy, especially the quarterback position, be bigger than the organization." 
Which QB will have more success this season: Wentz or Hurts?

"The Colts believe they have the guys in the locker room to make a run at the Super Bowl. The Eagles had major issues & they haven't been addressed. I wouldn't be surprised if Hurts has a terrible year." — @BMarshall pic.twitter.com/X1xobdBzlN

— First Things First (@FTFonFS1) March 19, 2021
However, the Philadelphia Eagles do not do things the same way. The exact thing Marshall praised the Colts for is the Eagles' biggest problem.
He believes that the franchise has too many underlying problems. He went on to add that he doesn't believe they can address these problems properly during the off-season.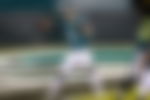 "And that's where they went wrong in Philadelphia…Now when you look in Philly, they had some major issues last year that haven't been addressed. And I don't know if they can be addressed. Because they're up against the slurry cap. They're known to be creative." 
Carson Wentz looking to prove doubters wrong
Marshall pointed to the Eagles' major problems. They have a serious lack of depth and major options in key positions. Which is the crux of their problems. He added that Jalen Hurts will have a poor season next year, primarily because he has no support within the team.
"Right now you have no DBs, they have no wide receivers and they have no offensive line. You don't have depth at the linebacker position. So what the hell are you going to do?
"This kid Jalen Hurts, I wouldn't be surprised if he has a terrible year. He's the quarterback, but he is one guy. He needs so many more people around him, and he has nobody."
ADVERTISEMENT
Article continues below this ad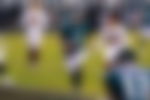 Who will have the better season between Carson Wentz and Jalen Hurts? Both players will enter the season with something to prove.
Wentz will want to show that he was not the problem in Philadelphia. And Jalen Hurts will be eager to show Philadelphia that he could've steadied the ship last season if he was given the chance earlier.
ADVERTISEMENT
Article continues below this ad