Former NFL WR Explains Why Jimmy Garoppolo Will Thrive Under Scrutiny for the 49ers
Published 04/01/2021, 2:42 PM EDT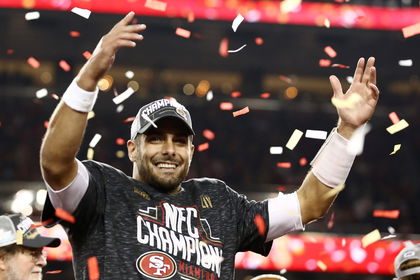 ---
---
The future of Jimmy Garoppolo is still up in the air. The San Francisco 49ers quarterback has heard his name in several trade rumors. Furthermore, the 49ers have forced their way into the Top-3 of the NFL draft, making a trade to get the 3rd overall pick.
ADVERTISEMENT
Article continues below this ad
Given the quarterback prospects this season, many expect the 49ers to draft a quarterback. But one former player believes the pressure and competition will be good for Garoppolo and the 49ers.
Former NFL wide receiver Greg Jennings recently spoke about the Jimmy Garoppolo – San Francisco 49ers situation. He believes that Garoppolo will thrive under the pressure for a multitude of reasons.
ADVERTISEMENT
Article continues below this ad
Firstly, Garoppolo will be motivated to play well because his contract is expiring, and he needs to earn himself a new one. Whether it is with the 49ers or another team is a different issue altogether.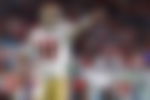 "When we're talking about Jimmy Garoppolo and the San Francisco 49ers, he's going to thrive. Number one being, because this is what he needs for himself.
"He's coming into his two final seasons of his contract. He knows that he needs to play himself into another contract, a long-term deal, for whoever that team maybe."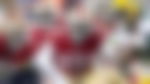 Jimmy Garoppolo tipped to succeed.
Furthermore, he believes that all parties will benefit from Garoppolo's improvement. He will be able to get more money, furthermore, his trade value will increase, which means the 49ers can demand way more for him. And finally, another improved quarterback will be a huge boost for the NFL as well.
"Second, because the San Francisco 49ers want him to thrive because if Jimmy G thrives, they benefit. We heard Kyle Shanahan say it in his presser. If Jimmy is mad, that's good. It bodes well, not only for us, and Jimmy, but our organization.
ADVERTISEMENT
Article continues below this ad
"Because they add trade value, they get so much more for Garoppolo if he has success. It leads to Jimmy Garoppolo having a tremendous season, not just because of himself needing it the 49ers needing it, but because of what it means to the league."
Can Jimmy Garoppolo have a good season this year? After last season, he will be desperate to prove his quality. 49ers fans fondly look back at the 2019 season, when Garoppolo was able to lead the 49ers to the Super Bowl. A glimpse of that is long overdue in the eyes of the fans.
ADVERTISEMENT
Article continues below this ad