Former Philadelphia Eagles Head Coach Doug Pederson Stands by His Decision to Bench Carson Wentz
Published 03/21/2021, 6:55 AM EDT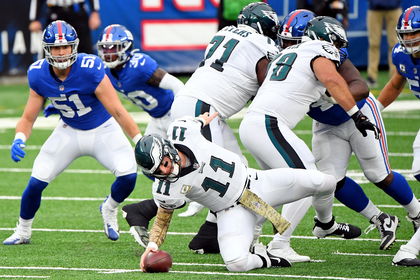 ---
---
The Philadelphia Eagles had a proper meltdown last season. Going 4-11-1, the franchise fired its Super Bowl-winning Head Coach in Doug Pederson and even traded their starting quarterback Carson Wentz.
ADVERTISEMENT
Article continues below this ad
Wentz, the 2nd overall pick by the franchise in the 2016 NFL Draft, entered the league with high expectations. Together, he and coach Pederson led the franchise into the Playoffs and ultimately won Super Bowl LII. The franchise's first Super Bowl.
Now that 3 years have passed, much has changed. Wentz is an Indianapolis Colts player, and coach Pederson is currently without a job.
ADVERTISEMENT
Article continues below this ad
While the team, as a unit, faltered overall, a lot of focus was put on the relationship that Pederson shared with Wentz last season.
Wentz, the Eagles' unanimous QB1 heading into 2020, was benched for rookie Jalen Hurts after a string of disappointing outings. Reflecting on last season though, it looks like Pederson has no qualms about his decision-making.
Philadelphia Eagles needed a spark
During a segment of the Rich Eisen Show, Doug Pederson talked about how the disastrous 2020 season unraveled.
"Going into the season, Carson Wentz was the guy to start. But you know, things just began to slowly kind of unravel with the entire football team.
"Injuries began to creep in and we lost a couple of close games. Things just started going a little sideways for us," he said.
With Wentz unable to perform, Pederson said he took the decision to start rookie Jalen Hurts to generate the spark needed to get back on track.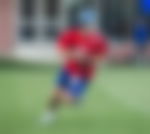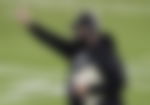 "Then I had to make a decision, to bench him. I had to do something to generate a spark… So I made the decision to put him on the sideline and start Jalen," Pederson said.
And looking back, the former Philadelphia Eagles Head Coach made it abundantly clear that he does not regret his decision.
"I look back on it now and, you know, I would have done the same thing. There's nothing I would have changed in my decision-making."
Pederson also said that Wentz was made fully aware of the scenario regarding the starting QB role before benching him.
ADVERTISEMENT
Article continues below this ad
"You know, it's funny, because there has been a narrative out there that he and I didn't speak. But we had conversations early on.
"Even when I was making this decision, I wanted to make sure that he was fully prepared and understood where I was coming from. I was) making this decision, not just for him, but for the entire football team."
With both individuals now going their separate ways, do you feel the Eagles could've handled the scenario better?
ADVERTISEMENT
Article continues below this ad