Former NFL Player Doesn't Believe Lamar Jackson Can Lead Ravens to Playoff Success
Published 12/26/2020, 5:02 AM EST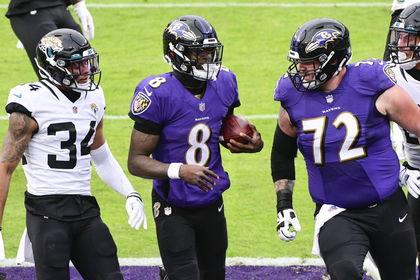 ---
---
Lamar Jackson is back for the Baltimore Ravens this season. After an extended stint away from the team due to injury, Jackson came back and has looked like his old self during the games that he has been back.
ADVERTISEMENT
Article continues below this ad
But now that the Playoffs are right around the corner, questions about Jackson's consistency have emerged once again.
Former NFL player Bart Scott spoke on 'Get Up' about how Lamar Jackson has been playing during the final stretch of games, and how the Ravens copped without it. Scott was not particularly impressed by how the team and Jackson have played.
ADVERTISEMENT
Article continues below this ad
He said, "Lamar is doing what he has always done. I don't see any innovation from Greg Roman in trying to evolve his offense, being able to push the ball down the field. I think 'Hollywood Brown' has been a huge disappointment.
"Willy C had the audacity to complain about not getting some attempts at him last year. He has been able to be effective with his legs and do what Lamar Jackson does." 
Scott pointed doubled down on Jackson's lack of options when playing and how that can be a hindrance to the Ravens in the Playoffs.
"But in the Playoffs, the competition is different. You're playing against playoff-caliber teams. Now I understand Cleveland is that. But that is like playing little brother.
"You understand and know that team better than any other team because you play them so often. I'm concerned with Lamar Jackson's lack of weapons and the inability to really beat teams within the pocket.
"And until he wins a playoff game, I think that you have to make sure that you pick up his options." 
Lamar Jackson lacks versatility in play
He believes that the performance in the Playoffs could impact Jackson's contract situation. "But you don't give him the Mahomes deal. You tell Lamar, 'Hey we're going to give you Amari Cooper and see if you can take him to the next level because the league is going to always continue to catch up.
"And I think when you go out there and you know you don't have to put two safeties deep, you know to put another safety in the box and see what (at that time) the San Diego Chargers did, to put more athletes who can play it safe, that is going to be the recipe to stop Lamar."
ADVERTISEMENT
Article continues below this ad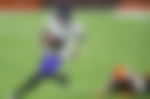 Scott noted that the Ravens are at a disadvantage because Jackson lacks versatility in play. "And if this team falls behind, can Lamar Jackson win a playoff game by throwing from within the pocket.
"That remains to be seen, and I think the answer is no. They have to win a certain type of way and they have a small margin for error."
ADVERTISEMENT
Article continues below this ad
It remains to be seen how Jackson and the Ravens will play during the Playoffs. Perhaps Lamar Jackson can rally the team together to see out the last few games.