Former NFL Player Explains Why New England Patriots Must Retain Quarterback Cam Newton
Published 12/04/2020, 8:58 AM CST
---
---
Cam Newton has helped the New England Patriots find their rhythm after their cornerstone quarterback, Tom Brady, jumped ship in search of a new challenge. a resurgent season.
ADVERTISEMENT
Article continues below this ad
This season, Cam led the Patriots to a 5-6 record and 3rd place in the AFC East. Newton becomes a free agent next season.
Former NFL player Marcellus Wiley spoke about who could be contenders for Newton. Wiley suggests that it will not be a long list of suitors, but the New England Patriots will be at the top of the list.
ADVERTISEMENT
Article continues below this ad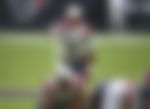 "I think Cam Newton will have a short line. Including the New England Patriots, which should be the priority for Cam Newton if he wants to re-sign because of the continuity… But think about what Newton was asked to do by the football world this year.
"One, go out there and show that you are physically capable of finishing a season. Remember, that was the biggest question mark and in part why Cam Newton wasn't signed this off-season."
Wiley also pointed out that another concern surrounding Cam Newton is his consistency. Many have accused Newton of not playing at a high level consistently. However, Newton has proven this season that consistency isn't an issue for him.
Wiley talks Cam Newton Free Agency as we approach Week 13
"But also the question marks around his durability. Answered that so far. And more importantly, can Cam Newton can be accurate with the football consistently.
"We always talk about the one year we had with North Turner, which was an MVP candidate type of season. Halfway through, Cam had his highest completion percentage, and also he had won 6 games lost only 2.
"But then injuries started to occur and people started to get off the Cam Newton train." 
He added, "He's answered that as well in terms of his accuracy. He has the second-best completion percentage of his career right now, 67%. So if you have a healthy and accurate Cam Newton, all you need is Newton to stay in your system with continuity."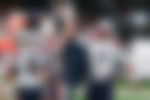 Wiley added that Newton is crucial to the Patriots. "This year was interrupted because of COVID. And before COVID, Newton was getting it in.
ADVERTISEMENT
Article continues below this ad
"To the point where he reset the expectations of a franchise that we thought wasn't going to be in playoff contention this year. They are now, in part, because of Newton.
"Sometimes he plays excellent… But they get the loss in those 2 great Cam games. And then you see him get the win and he doesn't look that great, against the Cardinals." 
Wiley finished by repeating his sentiment. "There should be a short line for Cam Newton; at the front of the line – The New England Patriots." 
ADVERTISEMENT
Article continues below this ad
It will be interesting to see where the Patriots finish in the postseason. Their performance in the Playoffs (if they make it) could determine if Newton re-signs with them.