Former Super Bowl Winner Believes Patrick Mahomes Can Catch Tom Brady For Super Bowl Rings
Published 03/04/2021, 9:50 AM EST ---
---
Tom Brady made history in the Super Bowl. He led the Tampa Bay Buccaneers to their first Super Bowl win in 18 years. It was a spectacular achievement for Brady. He was able to win his 7th Super Bowl ring, more than any other franchise. But one former Super Bowl winner believes Patrick Mahomes can surpass him for most rings.
ADVERTISEMENT
Article continues below this ad
Former Super Bowl winner Rod Woodson spoke to Rich Eisen recently. He believes that there is only one player playing presently in the NFL that could surpass Tom Brady for Super Bowl rings – Patrick Mahomes.
He noted that the Chiefs' roster is really good and young, as is Mahomes, and most of their future is tied up, and Mahomes can capitalize on that to surpass Brady for rings.
ADVERTISEMENT
Article continues below this ad
"The only player in the NFL playing right now young enough that maybe has that hope is Patrick Mahomes. He's young, they've been there. Most of the players on that roster are under contract.
"So they have the bulk and the core of that football team together. They still have the coaching staff intact. If anybody in the league can do it which, it could be Mahomes."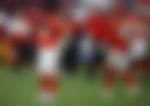 Can Patrick Mahomes overtake Tom Brady?
Patrick Mahomes has only been in the NFL for 4 seasons. In that time, he has won an MVP title and a Super Bowl. Currently, he is only 25 years of age and has a long road to travel.
Quarterbacks in the NFL, over the past few years, have shown that they can easily play into their 40s, like Tom Brady, Drew Brees, Ben Roethlisberger, and others.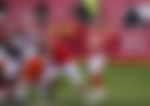 Furthermore, Mahomes also has some of the best offensive players in the NFL by his side. Players like Travis Kelce and Tyreek Hill had excellent seasons last year, albeit a poor showing in the Playoffs.
ADVERTISEMENT
Article continues below this ad
The only thing holding him and the Chiefs back was their poor defense, which needs to be improved ahead of the new season.
Can Patrick Mahomes surpass Tom Brady for Super Bowl rings? He has a really good chance, as he has already won a Super Bowl, and is still extremely young.
However, some may still hold it against Mahomes' legacy that he never defeated Tom Brady on the biggest stage of them all – the Super Bowl.
ADVERTISEMENT
Article continues below this ad