"Funny Enough, I Went to Him Before the Game…": Aaron Rodgers Reveals the Quirky Interaction With Romeo Doubs, Where the QB 'Forecasted' Something Special
Published 09/28/2022, 7:00 AM EDT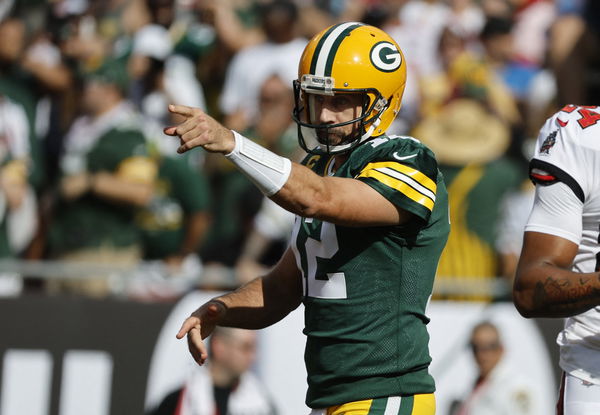 The Green Bay Packers had a blast after a massive win at the Raymond James Stadium. After a disappointing start, Aaron Rodgers and his team bounced back well into the game. Despite missing out on WRs, the offensive side produced well, with Romeo Doubs being the highlight. Although, A-Rod saw that coming and revealed a peculiar pre-game narrative during an interview.
ADVERTISEMENT
Article continues below this ad
During The Pat McAfee Show, the ex-NFL Punter put light upon Romeo Doubs and his credibility in Week 3. Aaron Rodgers also discussed their new romance with the wide receivers and Doubs' first TD. Rodgers then told the narrative of how he predicted his breakthrough.
ADVERTISEMENT
Article continues below this ad
Aaron Rodgers mentioned. "Funny enough, I went to him before the game, and I said, 'great day to catch your first touchdown today I think,' and he kind of smiled. Sure enough, there's a lot of things I love about Romeo, but it's just his approach. He's very steady, he asks a lot of good questions, he's sharp when you quiz him in a meeting or if a Coach quizzes him. He'll always come up with the right answer, cares about it, and the best thing is he catches the ball with his hands all the time."
Rodgers then recalled his catch on a screen press last week. The QB mocked Romeo Doubs about their conversation on Friday after the game. But Doubs came back with a ludicrous over-the-shoulder hand grab with the ball a foot above his head.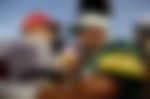 Romeo Doubs had an impactful game and also set a record. As per McAfee, he is the first WR to have eight-plus receptions after Davante Adams.
Aaron Rodgers explains the Jumbotron claim
After the Bucs–Packers Week 3 clash, Aaron Rodgers' Post-game interview became a viral highlight. He mentioned observing something in Tampa Bay's jumbotron that should not have been there. It resulted in a two-point conversion effort, which failed spectacularly and clinched Green Bay's victory. Rodgers appeared on The Pat McAfee Show to discuss what he witnessed and what he shared with Head Coach Matt LaFleur.
ADVERTISEMENT
Article continues below this ad
Rodgers mentioned observing something on the Jumbotron about four plays before the conversion and tried to convey it to LaFleur. The quarterback did not elaborate on what he observed or whether it affected the outcome. But A-Rod thought it was insignificant. Eventually, it led to a big win for Green Bay.
ADVERTISEMENT
Article continues below this ad
Will Rodgers and the Packers make a successful playoff run? It is subject to witness.
Watch This Story: Pragmatic Aaron Rodgers Wants No Part of Media's 'Special' Win Narrative Against Tom Brady