George Kittle Explains Why the Tight End University Shut the Door on Tim Tebow
Published 06/22/2021, 7:45 AM EDT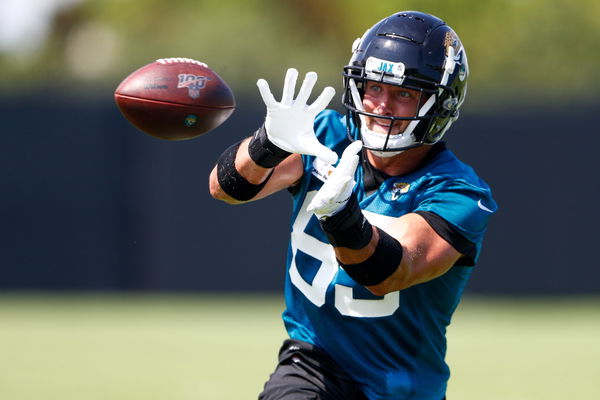 ---
---
Tim Tebow got the NFL community talking when he signed with the Jacksonville Jaguars for the 2021 NFL season. Formerly a quarterback for the Denver Broncos, Tebow played his last game in the league eight seasons ago.
ADVERTISEMENT
Article continues below this ad
Since then Tebow has gone on to experiment with other sports including baseball. And even his NFL return is an experimentation at best. Tebow's return alone wasn't what got people talking, it's the position that he'll be taking up on the field that's grabbed more eyeballs.
Tim Tebow, the former quarterback, is set to play as tight end for the Jacksonville Jaguars. A surprising switch late in his career. But even being registered as a tight end isn't enough for Tebow to be allowed to mingle with the league's best at the Tight End University.
ADVERTISEMENT
Article continues below this ad
Tim Tebow could get his shot next year
The Tight End University is a summit being organized to cater to some of the league's best tight ends at Nashville. Tight end across the league are getting together to  share their knowledge. Tim Tebow though was not invited.
Featuring on the Pardon My Take podcast, one of the organizers of the event, Niners tight end George Kittle explained just why Tebow wasn't invited.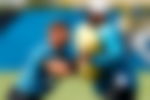 "Nothing against Tim Tebow, but I found it hard to invite — I wish nothing but the best for Tim Tebow, and I hope he has a fantastic season playing tight end — but it's hard for me not to invite a backup tight end on, let's say the New York Giants, as opposed to inviting a guy who just started playing the tight end position because we do have limited spots," Kittle said.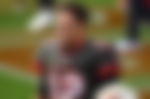 "I wish I could make it so every NFL tight end can come, (so) it's accessible to everybody. But what we tried to do this year, we wanted to pay for everything for all the tight ends that come to kind of make it a special event for all tight ends," he added.
ADVERTISEMENT
Article continues below this ad
Retired tight end Greg Olsen who is also a part-organizer though said that while Tebow missed out this year, he could land himself a spot next season.
"If he's on a roster this year, and he plays tight end, we would love to have him," Olsen said. "We would love to work with him. Once he's officially a tight end, we would love to work with him."
ADVERTISEMENT
Article continues below this ad
So the writing is on the wall for Tim Tebow. Survive a year in the NFL as a tight end, and a place among the league's finest awaits next season.