George Kittle Reveals the Strangest Request he has Received Since Signing New Contract
Published 08/26/2020, 4:47 PM EDT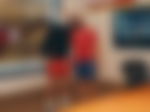 ---
---
San Francisco 49ers' George Kittle has been in the news all throughout the 2020 offseason, mainly because he was in line for a new contract after spending three years on his initial deal. Prior to his extension, Kittle was severely underpaid, especially considering the fact that he has been one of the top three tight ends in the league over the last two seasons.
ADVERTISEMENT
Article continues below this ad
Of course, the San Francisco-based organization gave their star player exactly what he wanted. But with great power (and money) comes great responsibility. Here's an interesting request that the 26-year old Kittle got after he penned his record-breaking deal.
ADVERTISEMENT
Article continues below this ad
George Kittle reveals weird Venmo request after signing mega-deal
Someone Venmo requested @gkittle46 for a new TV 😂 pic.twitter.com/ybLboSEQ5c

— 49ers on NBCS (@NBCS49ers) August 25, 2020
Kittle etched his name in history books when he completed his new deal with the 49ers. He is now the most expensive tight end in NFL history after signing a record-breaking five-year, $75 million contract extension. However, there have been some strange requests that have come in as a result of his new mega deal.
Kittle recalls how one over-enthusiastic fan asked him to Venmo some cash so he could buy a new HD TV. Why did the fan want a new TV? To watch the 49ers quarterback Jimmy Garoppolo's chiseled jawline, of course. Obviously, Kittle graciously declined but hey, it was worth a try.
Glad it's over, says Kittle on lengthy contract negotiations
Kittle appeared on The Rich Eisen Show recently. Here's what the hard-working tight end had to say about his 'stressful' contract negotiations with the 49ers management.
"[I enjoyed] the learning process behind it of what actually goes into making a contract. I just thought that was really interesting. Whether it was the structure of the contract, just learning about the APYs (average per year), guarantees and all that stuff, just learning how it all worked and how it flowed together, it made a lot more sense to me. Don't just look at one big number, you want to look at the things in the back that not everyone would see. And so it was just fun to learn about that whole process.
ADVERTISEMENT
Article continues below this ad
"I will say I'm glad that it's over because it was pretty stressful sometimes. But overall, I'm pretty glad that it's over. I was just happy that we were able to work together and get this thing done so both sides are happy," Kittle said.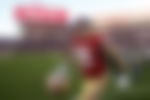 Kyle Shanahan's boys start their 2020 campaign with a clash against the Kyler Murray-led Arizona Cardinals on September 14, 2020. Can the 49ers orchestrate another run to the Super Bowl this season?
ADVERTISEMENT
Article continues below this ad