'Get The Splinters Out Of Your A**' – Aaron Rodgers Recalls Hilarious Interaction With Philadelphia Eagles Fan
Published 10/22/2021, 1:28 PM EDT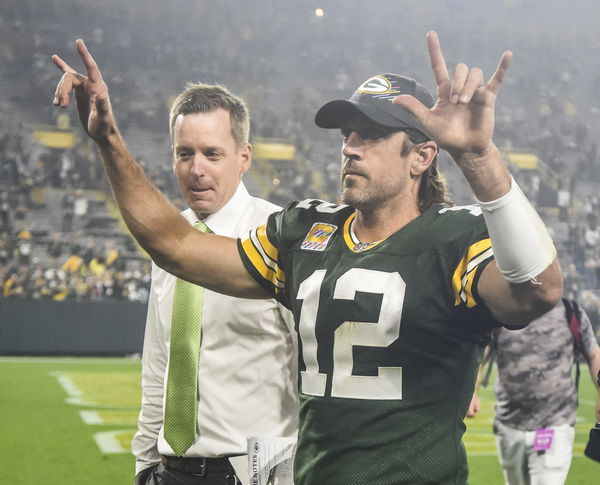 ---
---
Being a professional athlete requires mental fortitude of the highest magnitude. An athlete's character and mental strength are put to test when they play away from home. More often than not, away crowds are hostile towards the opposition and end up hurling abuses at the opposition. Most recently, Aaron Rodgers stood at the end of this abuse.
ADVERTISEMENT
Article continues below this ad
What sets the best from the rest is how they deal with pressure. While some players crack under pressure, there are others like Aaron Rodgers who revels under pressure and likes to prove his haters wrong. In a recent press interaction, Aaron Rodgers shared the wildest heckling he has faced and his reaction to it.
ADVERTISEMENT
Article continues below this ad
Rodgers screams "I own you!" at Bears fans
On Sunday, Green Bay Packers quarterback Aaron Rodgers scrambled for a score against the Chicago Bears and celebrated by verbally fleecing the crowd, saying he owned the Bears and their supporters. Apparently, he shot back at the hostile crowd in the stands of Chicago's Soldier Field by telling them, "All my fu*king life. I own you, I still own you, I still own you."
Despite Aaron Rodgers responding aggressively, the Green Bay Packers quarterback revealed that this was not the most hostile crowd he has faced. It was, in fact, a Philadelphia Eagles fan that got onto his nerves the most.
Aaron Rodgers recalls his worst heckling experience
Speaking to the press, Rodgers revealed the story of how a Philly fan constantly kept on yelling "get the splinters out of your a**" for three quarters, which impressed Rodgers that he ended up waving back at him. According to him, Philadelphia Eagles fans are really good trash talkers.
A reporter asked Rodgers if incidents like this only took place in Chicago. Rodgers replied, "No, it happens in a lot of places. Definitely not just Chicago. There are some other places we've been that have some rowdy fans. Philly, I think maybe the best trash talkers."
ADVERTISEMENT
Article continues below this ad
"I told this story back years and years ago when somebody the entire game – I was a backup – he yelled, 'Hey Rodgers, get the splinters out of your ass.' All game long. To where, by the time the third quarter happened I was impressed that he was still at it, so I turned and gave him a little wave."
"But yeah, Philly fans. Real good trash talkers."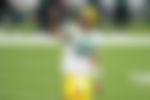 Do away fans go too far to intimidate the opposition players? When it comes to the NFL, the taunting rule applies only to the players and not the fans, fortunately.
ADVERTISEMENT
Article continues below this ad