'Glad He's Not at New England' – NFL Analyst Prefers the New Tom Brady Over the One Coached by Bill Belichick
Published 06/24/2021, 8:10 AM EDT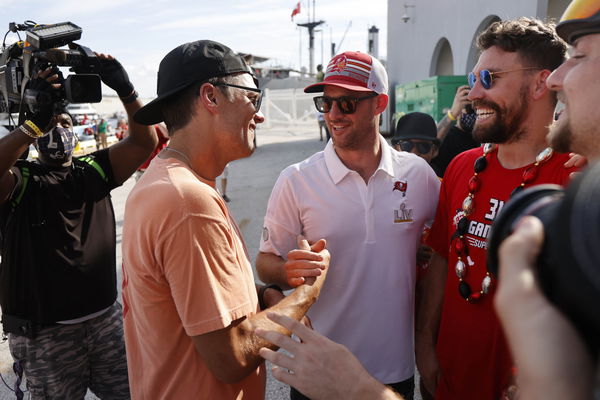 ---
---
Tom Brady seems like a man reborn in Florida. Ever since signing with the Tampa Bay Buccaneers in 2020, Brady seems to be enjoying the spotlight and life itself more than during his spell at New England. 
ADVERTISEMENT
Article continues below this ad
The quarterback who was the 199th overall pick back in the 2000 NFL Draft won six Super Bowls with the Patriots franchise. Helping them establish one of the greatest NFL dynasty's of all time, Brady was a rather subdued figure off the field.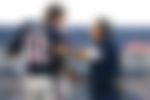 This could well have been due to the coaching style of Patriots Head Coach Bill Belichick. Known to be a bit of a disciplinarian, Belichick's methods of handling his players have often been criticized. 
ADVERTISEMENT
Article continues below this ad
But now away from the New England shadow, the world is fortunate enough to see a fun and carefree side of Tom Brady. One that a certain NFL analyst seems to enjoy more than the one at Foxboro. 
Tom Brady deserves to let loose and be himself
The new carefree side of Tom Brady has been there for everyone to see. In a promo for HBO's show 'The Shop: Uninterrupted', Brady was seen talking about a side that snubbed him for a QB during free agency last season. A decision that caused him to say, 'You're Sticking With That Motherf**ker?'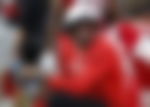 This side of Brady is something that the world is still getting used to. But it's something that NFL analyst Ryan Clark wishes to see more often. 
"This is not the guy that I knew. It's not the dude that I played at New England… But once he got away from under that New England umbrella, he can actually talk and actually be himself," said Clark during a segment of Get Up.
"He's acting how he supposed to act. He's acting like a dude with seven rings should. Be like a dude that's married to Giselle Bundchen. He's acting like a dude that gets to do whatever the hell that he wants," he added.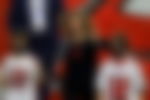 Speaking about the Tom Brady of the past, Clark said he is glad that the quarterback has moved on from the shadow of Bill Belichick and New England. 
ADVERTISEMENT
Article continues below this ad
"This is what Tom Brady should be like, this is what he is… I'm glad he's not in New England. I'm glad it's not "on to Cincinnati". And is like, 'Yeah, I'm gonna talk my ish cuz I earned this."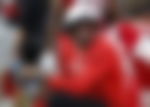 We for one can agree with Clark. Seeing a drunk Tom Brady throwing the Lombardi Trophy from one yacht to the other is something we'd definitely love to see more often. 
ADVERTISEMENT
Article continues below this ad