'Go Ahead and Retire' – NFL Legend Terry Bradshaw Rips into Aaron Rodgers
Published 05/04/2021, 3:28 PM EDT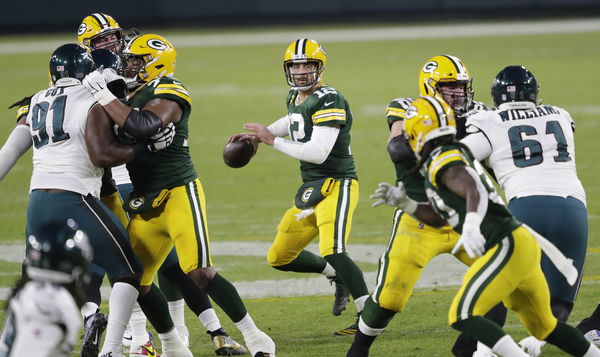 ---
---
The writing is on the wall. Aaron Rodgers wants out of Green Bay. The QB who has been a Packer throughout the course of his NFL career is apparently disgruntled with the Packers management. 
ADVERTISEMENT
Article continues below this ad
The relationship between the two parties has been on a knife's edge for some time now. When the Green Bay Packers drafted Jordan Love with the 1st-round pick in 2020, Rodgers responded by putting up an MVP season.  
Fast forward to today and the quarterback is fed up with the franchise and their lack of faith in the QB. Rodgers himself is yet to confirm this take, but the Packers organization had acknowledged the fact and have said that they do not wish to trade the QB. 
ADVERTISEMENT
Article continues below this ad
One NFL Hall of Famer though doesn't seem too happy with how Rodgers has been conducting himself. 
Aaron Rodgers faces the heat 
Appearing on WFAN, former Pittsburgh Steelers QB Terry Bradshaw lashed out at Aaron Rodgers for his behavior.
"With him being that upset shows me how weak he is… Who the hell cares who you draft? I mean, he's a three-time MVP in the league and he's worried about this guy they drafted last year at number one?" said Bradshaw.  
Drawing parallels to his situation back in the playing days, Bradshaw said that he embraced the challenge instead of running away from it.  
READ MORE: Former Packers Teammate Rules Out Possibility of Aaron Rodgers Retiring
"For him to be upset, my God, I don't understand that. Pittsburgh drafted Mark Malone number one, Cliff Stoudt in the third or fourth round. I had them coming at me from all angles.
"I embraced it because when we went to practice, I wasn't worried about those guys. You know? They didn't scare me a bit. So I don't understand why he's so upset at Green Bay," added Bradshaw. 
Bradshaw didn't hold back on rumors of Aaron Rodgers wanting Packers GM Brian Gutekunst fired either. "If they fire the General Manager he'll come back? Are you kidding me? Really? Aaron, that's where this is?"
ADVERTISEMENT
Article continues below this ad
And it seems amidst all the blaming and slamming, Bradshaw had a solution to the problem.  
"Here's what I'd do. I wouldn't budge. Let him gripe. Let him cry. Retire. You're 38. Go ahead and retire. See you later. I mean, I'm really strong about stuff like that, and it makes him look weak. In my way of looking at it, it makes him look weak."
With Bradshaw not holding back, do you think it's right for Aaron Rodgers to be unhappy with how things have unfolded at the Frozen Tundra? 
ADVERTISEMENT
Article continues below this ad
READ MORE: 49ers HC Kyle Shanahan Reveals He Did Inquire About Aaron Rodgers Before the Draft