'Go Back to Where You Belong': Former NFL Coach Blasts Urban Meyer Following his Firing as Jaguars HC
Published 12/23/2021, 6:45 AM EST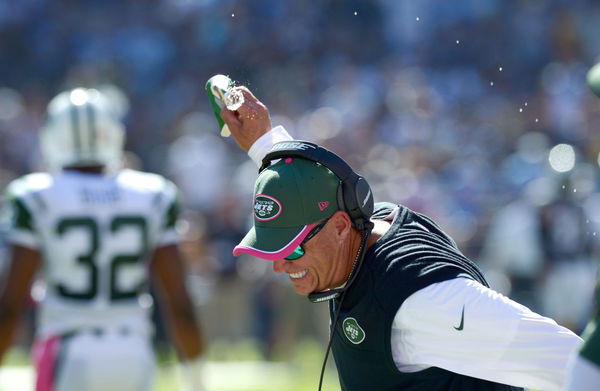 ---
---
The Jacksonville Jaguars are having a very terrible season. They have played 14 games until week 15 and have only won twice. With 12 losses, it is no surprise that they are at the bottom of the AFC South division. The Jaguars are on a six-game losing streak and the last time they won a match was against the Buffalo Bills in week 9. The result of the match was 9-6. It was one of the lowest-scoring games of the season. After such a poor season, the management of the Jaguars fired Urban Meyer. Former head coach Rex Ryan had some words for Meyers. 
ADVERTISEMENT
Article continues below this ad
ADVERTISEMENT
Article continues below this ad
The Jaguars fire Urban Meyer
With 11 months in the Jaguars, Urban Meyer never won the trust of the team and its management. Some believe he simply lacks the talent required to coach a team in the NFL. 
On a warm summer afternoon, Meyer was the special guest at a luncheon. The meeting had a lot of Jaguars' sponsors present. Meyer gave a 20-minute long speech about leadership. He talked about his past experience in order to win the sponsors' trust. In the speech, he said, "I have been blessed with a skill," he adds, "That I get through those honest, open conversations very easily."
But ironically, with his terrible record, Meyer cannot be trusted by the Jags. He let everybody down. With 13 games into the season, the management fired Urban Meyer. His speech was able to impress many, but his record did not. The Jaguars let him go.
ADVERTISEMENT
Article continues below this ad
Rex Ryan reacts to Urban Meyer's firing
After the firing of Urban Meyer, few people commented on the situation. But the one who did was the former head coach, Rex Ryan. Ryan could see this coming from a mile away. During an appearance on the Sunday NFL Countdown on ESPN, Ryan dissected Meyer's attempt to coach in the NFL. He said, "I knew he'd get out-coached, he did. Go back to college where you belong," Ryan adds. "And I'm sorry, I respect him as a college football coach, but I knew this was going to happen."
ADVERTISEMENT
Article continues below this ad
Just like the Jaguars management and fans, Rex isn't impressed with Urban Meyer either. He advised Urban to go back to college where he belongs.