"Going to Hurt but I'll Do It": Heartbroken Fans Put On Manager Hats to Solve Lamar Jackson's $230 Million Plus Problem
Published 03/07/2023, 8:16 AM EST

Follow Us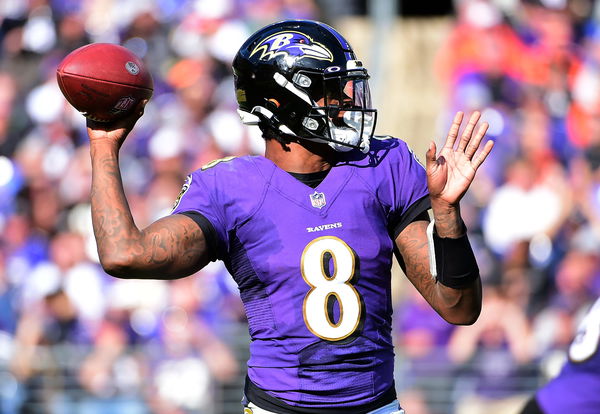 The Baltimore Ravens are still struggling with the problem of Lamar Jackson contact. Jackson and the franchise are negotiating since the last offseason. But no end seems to be in sight for the saga. Thus, the heartbroken fans have donned the general manager's hat and are trying to solve the QB's $230 million plus problem.
Jackson is out of contract and the Ravens have a little time to decide on the franchise tag. But the fans have just one question, is everything worth it?
Heartbroken fans try to solve the Lamar Jackson problem
ADVERTISEMENT
Article continues below this ad
The Ravens and Lamar Jackson are still in negotiations regarding a new deal. But according to NFL insider Tom Pelissero, everything indicates towards a franchise tag decision. And the Ravens don't have much time left to mull over it either.
#Ravens QB Lamar Jackson and GM Eric DeCosta met recently in Jackson's hometown of Miami in hopes of working towards a deal, per sources.

But after more than a year of negotiations, the sides remain apart and the situation appears headed towards a franchise tag Tuesday. pic.twitter.com/BWqFZMUbBW

— Tom Pelissero (@TomPelissero) March 6, 2023
The news has certainly broken the hearts of many fans in the NFL fraternity. And the fans started to look for ways to solve the problem that the franchise is grappling with for over a year now. Here are some fan reactions.
This fan wants the Ravens to pay Jackson as he deserves it.
Give than man 51M per year fully guaranteed. He deserves it.

— Johan Pontmercy (@JohannPontmercy) March 6, 2023
But this fan thinks no team will give him what he wants.
No team is going to give him a fully guaranteed contract. He can't stay healthy

— Johnny B (@JohnnyBKC15) March 6, 2023
Another fan donned the manager's hat to solve the problem.
I hate to say it but when he's free he's not returning. I'll trade em and get something for him while I can. Lol. It's going to hurt but I'll do it !

— Jacobbi McDaniel (@JacobbiJustice) March 6, 2023
This fan is asking if Jackson will be okay to play with the tag.
Another fan wants the Ravens to let the QB go.
Cut him. He isn't worth what he wants.

— Eric Leuck (@LeuckEric) March 6, 2023
This fan thinks they know what the Ravens are up to in the Jackson situation.
I think they will non exclusive him and possibly have 3 1st round picks to rebuild our offense going fwd.

— Tito Starr (@TitoStarr1) March 6, 2023
Another fan says either the Ravens should pay the QB or just let him go.
If you don't wanna pay him let him go somewhere and get paid

— Burg (@bustafreee) March 6, 2023
Jackson, who played the 2022 season on the fifth-year option of his rookie contract, wants something in the region of $230 million for an extension. The amount of money is not a problem for the Ravens, it is the QB's demand for guaranteed money that has put a damper.
ADVERTISEMENT
Article continues below this ad
The logic of both sides
Both sides seem to be adamant about what they see as the future course of action. Jackson wants to sign an extension but won't do it without the guaranteed money. He probably thinks that he deserves it as Deshaun Watson got a similar contract from division rivals Cleveland Browns. And the Ravens QB has certainly played better than him since coming into the NFL.
But many think that giving a fully guaranteed contract might be counterproductive for the franchise. Jackson hasn't completed the last two seasons and is marred with injuries. While the Ravens want to keep their QB1, but not on such a risky contract.
ADVERTISEMENT
Article continues below this ad
Who will blink first in the contest? The Ravens certainly don't have much time and have to make a decision soon. Will the QB return to the Ravens next season?
Watch this story: 49ers eyeing Tom Brady again: NFL analyst discusses the pros and cons of bringing the NFL GOAT to San Francisco
Edited By: Abigail Kevichusa