'Gotta Keep That Forehead Back': Russell Wilson Joins Tom Brady In Roasting NFL Legend Peyton Manning
Published 06/18/2022, 3:43 PM EDT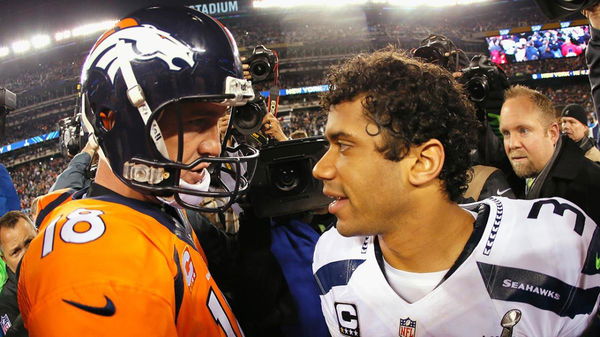 NFL athletes are brutal to each other on the field. The nature of the sport demands it. However, many of the players are known to be excellent friends off the field. Many rivals have built friendships out of rivalries and some even became mentor-mentee. In all of this the fun and competitiveness doesn't ever go away. One such individual who counts former rivals among his friends and mentors is Broncos' QB, Russell Wilson.
Russell recently joined Buccaneers QB Tom Brady in roasting NFL great Peyton Manning. The latter is a former rival of both Brady and Wilson and is currently close to them, with the Broncos QB being Manning's mentee at Denver. That Wilson joined Brady in taking a dig at Manning shows the closeness among the three QBs.
ADVERTISEMENT
Article continues below this ad
What led to Russell Wilson roasting Manning?
Wilson recently put up a comment on Instagram, roasting Peyton. Taking a dig at Peyton's markedly wide forehead, he wrote, "@tombrady well… let's just say Peyton's gotta keep that forehead back… and stay behind the ball." The Broncos QB was responding to a comment by the Bucs QB. Brady had earlier commented, "Ssooooo how did it go????" to a post.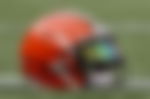 Manning is known for his wide forehead and Brady was the one who
recently
started the comments regarding it. He recently uploaded a workout video with a closeup on his face. Taking a dig at the former Colts QB, Brady tweeted,
"The kids over on tiktok are calling this the Peyton angle 
Rude!"
It seems Wilson has joined Brady's bandwagon and is contributing his share to the joke at Manning's expense. The dig by itself is very jovial and part of locker room banter. Although it does show the change in guard of the new NFL. And sooner than later, Mr Tom Brady shall also be part of the other side.
ADVERTISEMENT
Article continues below this ad
The bond between Wilson and Manning
Recently, at the Dartmouth College commencement address, Wilson spoke about his decades old acquaintance with Manning. Wilson was a member of the Manning Passing Academy as a high schooler when he first played with Manning. The then Colts QB had complimented his throwing skills back then. Almost a decade later, a young Wilson played in his first game as Seahawks QB against Manning.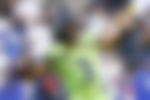 Currently, both Manning and Wilson are part of the Broncos. Peyton's presence at the Broncos, according to Wilson, has been of great help in improving his game. He said that the veteran QB has a lot to offer in terms of experience and has had a positive impact on the former Seattle QB. With such an old bond between the two and their present professional relationship, it seems that both players are quite comfortable with such minor jokes and digs.
ADVERTISEMENT
Article continues below this ad
Watch This Story: Patrick Mahomes Responds to Tyreek Hill's Comparison With Tua Tagovailoa; Names His New Podcast as the Reason