Green Bay Packers alert ticket holders regarding 2020 season
Published 07/03/2020, 5:09 PM EDT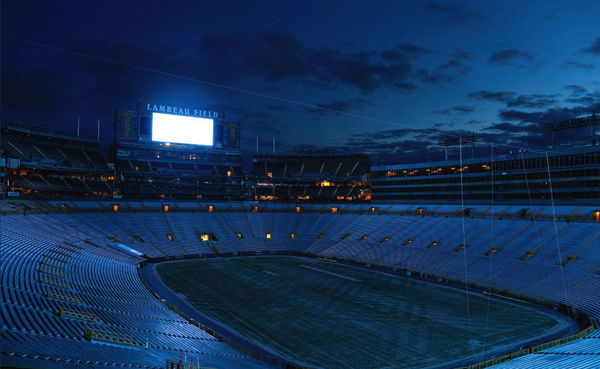 ---
---
As per the released schedule, The NFL 2020 season will start later this year in September. Reigning champions Kansas City Chiefs will square off against Houston Texans on September 14, 2020. However, there is still no information as to whether fans will be allowed inside stadiums this year.
ADVERTISEMENT
Article continues below this ad
Owing to the ongoing coronavirus pandemic in the USA, NFL fans might not be allowed at matches this season. Just like the NBA, the NFL could also be played behind closed doors. Fans remain optimistic regarding this issue but will have to wait for further updates from NFL commissioner Roger Goodell and other league officials.
In light of recent events, Green Bay Packers CEO President/CEO Mark Murphy issued a notice to seasonal ticket holders. The official statement alerted Green Bay Packers' supporters about the possibility of missing out on stadium action this season. Here is the detailed announcement as shared by NFL reporter Adam Schefter:
ADVERTISEMENT
Article continues below this ad
Green Bay Packers warn ticket holders about 2020 season restrictions
ADVERTISEMENT
Article continues below this ad
The Packers have not yet announced the precautionary measures that will be in place for this year's games. Multiple reports indicate that NFL authorities will ask teams to leave the first six-seven rows completely empty for the current season. This means that almost 6,082 seats at Lambeau Field will be left vacant if that rule is applied.
Aaron Rodgers will miss Packers fans at Lambeau Field this year
ADVERTISEMENT
Article continues below this ad
During a Facebook chat earlier this week, Legendary Green Bay Packers QB Aaron Rodgers expressed his disappointment at the prospect of playing in empty stadiums this season. The 36-year old talked about how much the home support means to him and the impact of Packers fans in the community. Rodgers said "I think it would be really strange. I understand the state of the country for sure, but there's something special about Lambeau Field."
"It's just different in Green Bay. We have such a great interaction with our fans. We have thousands and thousands of fans at training camp. The businesses and the houses for rent on Lombardi and on Ridge Avenue (Road). The Green Bay Packers community is really tied to the team. So many great mom-and-pop businesses, restaurants and bars right there contingent on us having games, and I know those people are hurting and hopeful, like we all are, that things can stabilize at some point," Rodgers further added.