Aaron Rodgers' Döppelganger Reveals Himself!
Published 12/15/2021, 6:06 AM EST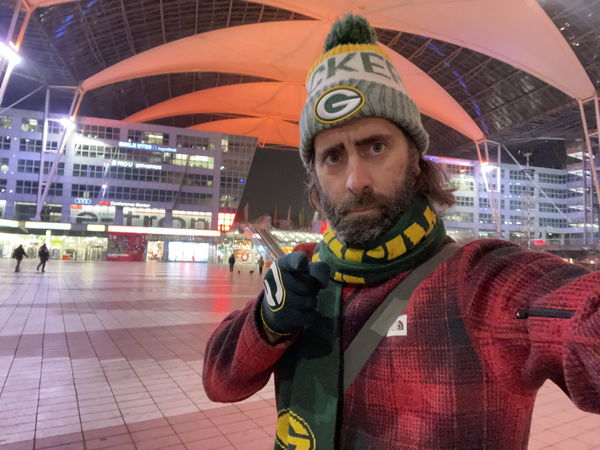 ---
---
Green Bay Packers defeated Chicago Bears with an amazing 15 point game. The phenomenal performance of the Packers is not what most people are talking about. What has everybody's attention is a person looking exactly like the quarterback Aaron Rodgers. The resemblance is uncanny. Even the most hardcore Packers fans were confused. 
ADVERTISEMENT
Article continues below this ad
The Aaron Rodgers döppelganger's identity finally revealed
During the Packers and Bears game on Sunday, the fans spotted a man that looked like their favorite quarterback. Some fans believed that it was Rodgers himself sitting among them. Maybe Aaron Rodgers was going to sit back, relax and enjoy the game from the stands. But as soon as they spotted the real Aaron Rodgers, they were in awe. 
ADVERTISEMENT
Article continues below this ad
This mysterious Packers fan was even wearing the famous quarterback's number 12 jersey. With a beanie on his head, he even had hair and beard like Aaron Rodgers. If both of them stood side by side, people would have a really hard time telling them apart. 
The identity of this man has been revealed. His name is Frank, and he is a software engineer from Munich, Germany. Frank and his family are big Green Bay Packers fans. 
Frank's visit to America
ADVERTISEMENT
Article continues below this ad
Frank was in America because he wanted to take his father to the Packers and Bears game for his birthday. As soon as Frank landed in Chicago, everybody started to tell him that he looks just like Aaron Rodgers. Next thing you know, Frank became a national sensation. 
620WTMJ radio did an interview with Frank. In the interview, he revealed his sister encouraged him to buy the number 12 shirt. When they entered the stadium, Frank started making friends left and right. People bought him beer, and everybody had a great time. During the Sunday night football broadcast, they showed Frank on a split-screen with Aaron Rodgers. After that, Twitter blew. NFL fans worldwide were talking about the döppelganger. 
ADVERTISEMENT
Article continues below this ad
"The next day when I saw millions of views on Twitter, it was unreal," Frank said in the interview. Currently, the Aaron Rodgers döppelganger has returned to his home in Munich. Frank has become an internet celebrity overnight, and he will enjoy his newfound fame on Twitter. In the interview, he said he does not know how to capitalize on this fame. "I wouldn't know how to capitalize on it!" Seems like the German Packers fan will enjoy his fame with people over money. Aaron Rodgers is still convinced that NBC has planted Frank to distract him.