Packers' Aaron Rodgers Reveals Diet Change that Helped him Improve This Season
Published 01/08/2021, 4:50 AM EST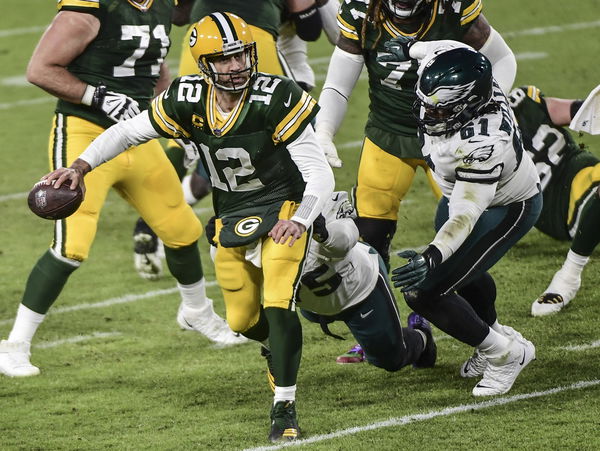 Aaron Rodgers has been one of the best players in the NFL this season. The Packers' quarterback has been the reason for their impeccable form this season, as his plays led them to a 13-3 record in the NFC – a conference-best.
Furthermore, Rodgers has been playing at a continuously high level and is a strong contender for MVP this year. Aaron Rodgers spoke to Pat McAfee on his podcast.
Rodgers revealed that one of the changes that helped him improve his play this year was his diet. Rodgers became stricter with regards to what he puts in his body and cut out significant food groups in order to help his body recover. He believes that the difference is clearly visible.
ADVERTISEMENT
Article continues below this ad
He said, "Cutting gluten, and probably most importantly for me and my own blood type, dairy out of my diet has really made a difference in my body.
"It's just changed the way my joints respond. It's changed the way my skin and body respond. I don't feel bloated all the time, I don't feel kind of slow and foggy." 
Aaron Rodgers changed his diet to help his body
In fact, Rodgers further explained his reasoning behind making the change in his diet. "There were things that I tried to use as control factors over the years to figure out what exactly were the few things that affected my body the most."
ADVERTISEMENT
Article continues below this ad
In fact, Rodgers explained how the change in his diet allowed his body to have less inflammation. And he thinks that the lack of inflammation allows him to move about better on the field.
Additionally, he added that the diet has helped his body and has resulted in an improvement in his numbers, especially in terms of sacks.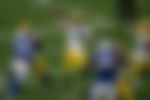 He said, "Less inflammation means you're going to be healthier and I just haven't had the joint issues that I've had in years past. I haven't taken as many shots as well, I've only been sacked 20 times this year, which was a low for my career, which I'm very thankful for. But the diet has been a big part of it."
ADVERTISEMENT
Article continues below this ad
Will Rodgers' great form translate into playoff success? Rodgers is a favorite to win the MVP and lead the Green Bay Packers to the Super Bowl this year. However, he has a challenge in front of him, and it won't be easy.