Aaron Rodgers Unveils 'Wick-ed' Halloween Costume on Instagram
Published 10/31/2021, 9:17 AM EDT

Follow Us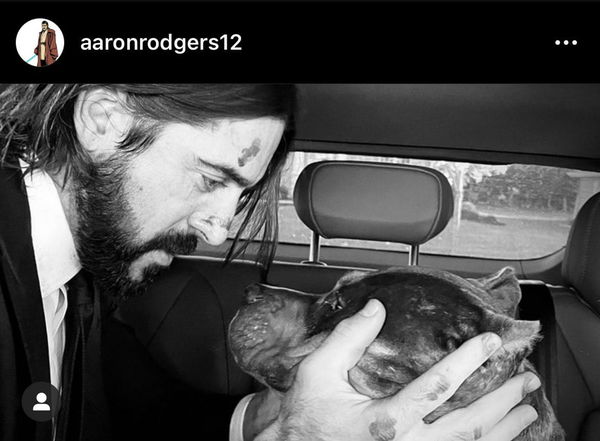 Aaron Rodgers' Halloween outfit has finally been revealed. Rodgers has been growing his beard and hair out for months. At the start of the season, he was even criticized for his fashion sense. Rodgers being himself never paid heed.
Unfortunately, Rodgers finally gave in after constant chatter. Back in September, he disclosed he was growing out his hair and beard in preparation for his Halloween costume. Now that Halloween is here, his costume has finally been revealed. Rodgers has dressed up as John Wick this time and he looks Wick-ed!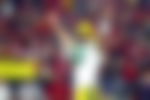 Aaron Rodgers dresses up as John Wick this Halloween
ADVERTISEMENT
Article continues below this ad
Aaron Rodgers this Halloween dressed up as John Wick. The popular character, played by Keanu Reeves has always been compared to Rodgers owing to their similar face cut and personas. Moreover, Rodgers also considers Wick his hero. This is also the reason for Aaron Rodgers's hair growth in the past few months.
"I have a month-ish until Halloween. And this [hair] has been a year in the making for my costume," Rodgers said to Pat McAfee. "I'm not going to give it away, but it's somebody who's a hero of mine who has long-ish hair," Rodgers had said. Considering how meticulously he had planned this look, his attempt certainly looks successful.
I would be lying if I said that I didn't mistake Aaron Rodgers for John Wick in the photo. Job well done Rodgers!
Big Blow for Rodgers & Packers as Robert Tonyan has been ruled out for the season
On the way to a 24-21 victory, it was one of Robert Tonyan's crucial plays on the drive that gave the Packers a 24-14 lead. Overall, he had a game to remember. In the game, he had three catches for 49 yards. Unfortunately, in the third quarter., Tonyan injured his knee on a 33-yard reception.
ADVERTISEMENT
Article continues below this ad
On Friday, Tonyan's agent, Jack Bechta, tweeted that his client had a complete ACL tear in his left knee. To make matters worse, the Green Bay Packers tight end is expected to miss the entire season, according to ESPN.
I can unfortunately confirm Robert Tonyan suffered a Left knee ACL tear. Isolated Clean with no lateral damage.

— Jack Bechta (@jackbechta) October 29, 2021
ADVERTISEMENT
Article continues below this ad
Wishing a swift recovery to Robert!