Green Bay Packers Add a Pocket to Aaron Jones' Jersey So He Could Keep His Father Close to His Heart
Published 10/03/2021, 7:45 AM EDT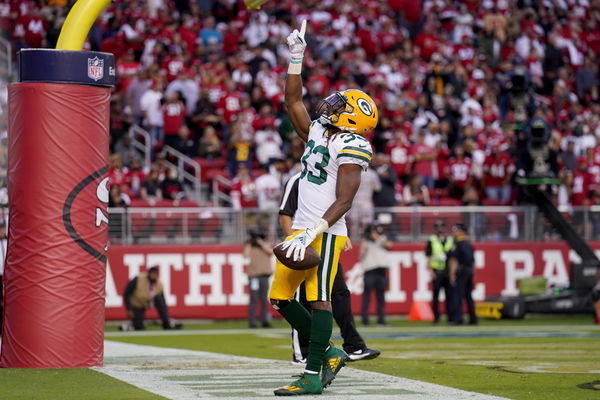 ---
---
During Green Bay Packers' week 2 game win against the Detroit Lions, running back Aaron Jones witnessed a nervous moment as he lost a pendant containing his father's cremains in the field. Jones took a sigh of relief after retrieving the pendant.
According to a report by Ron Demovsky of ESPN, the equipment staff of the Green Bay Packers offered a creative solution to this and made Jones a new jersey with a left breast pocket where he can place the pendant with no fear of losing it.
Aaron Jones keeps his dad closer to his heart
Jones used this pocket for the first time in week 3 during his game against the Niners, where he led the Packers to a 28-30 victory by covering 82 yards with a touchdown and an average of 4.3 yards.
On losing his father, Alvin Jones Sr., who died in April. Jones wore a pendant containing his father's cremains from week 2, where he briefly lost it in the end zone. Later, the pendant was recovered by the Packers' staff and since then Jones started to keep his father even closer to him.
"I think it's something I'll continue to do. Just keep my dad with me everywhere I go," Jones said. "I wear it mostly at all time. Gotta get a new chain so I haven't been wearing it except for on Sundays, but I think it's definitely something I'll continue to do." 
Great move by the Green Bay Packers' equipment staff
While keeping his father's cremains as a memento, Jones has picked up 158 yards and scored two rushing touchdowns while running the ball 41 times averaging 3.9 yards per carry. As the Packers prepare to take on the Steelers in week 4, Jones is already prepared to hold on to his father and feel him closer to his heart while he runs the ball past the defenders.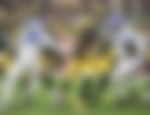 This heartfelt move by the Packers' equipment staff will not be forgotten and their efforts to preserve the faith of the running back will come around and the Packers will take on everyone by surprise once they seal their third straight win this weekend.