Packers CEO Mark Murphy Does Himself No Favor by Suggesting Aaron Rodgers To Be 'Complicated'
Published 06/12/2021, 10:36 AM EDT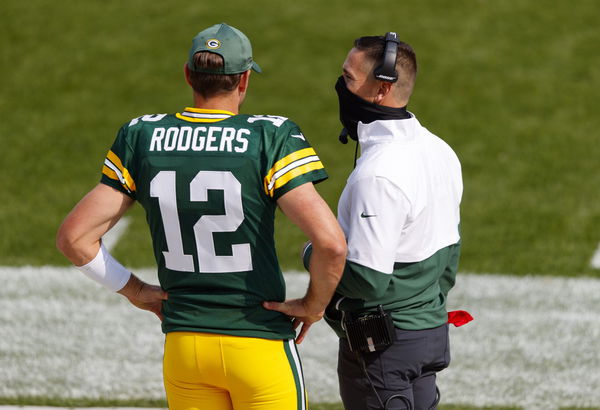 ---
---
The Green Bay Packers have a unique way of going about their business. Being the only US sports franchise to be publicly owned by the people of Green Bay, the Packers are a close-knit community. But even this level of togetherness is now being challenged thanks to the actions of Aaron Rodgers.
ADVERTISEMENT
Article continues below this ad
The team's star quarterback is reportedly looking to shift base from Green Bay. While he hasn't publicly stated this desire, not turning up for OTAs or minicamp suggest that such very much is the case.
ADVERTISEMENT
Article continues below this ad
The quarterback though did clear the air while appearing on a tv show recently stating that he has no problems with the fans, coaching staff, or his teammates. The one big entity not on Rodgers' list, the Packers front office.
Many believe the team's management decisions have irked Rodgers to the point of no return. And going by their recent comments, they certainly aren't doing themselves any favors.
Recent comments might not go down well with Aaron Rodgers
Green Bay Packers CEO Mark Murphy recently said that Rodgers has done something that very few individuals have been able to achieve over the past. Divide the Packers fanbase.
READ MORE – Cardinals QB Kyler Murray Refuses To Rule Out Move To MLB in Near Future
While some Packers fans are rallying behind Rodgers, some believe that no one is above the team. While everyone would want Rodgers to be back, his decision to hold out has garnered mixed reactions.
Murphy also said that the team is trying its best to ensure that Aaron Rodgers returns for 2021. But his latest comments might not spark much enthusiasm in Rodgers to return. During an event at Lambeau Field, Murphy recalled a comment made by former Packers GM Ted Thompson, the man who had drafted Rodgers in 2005.
ADVERTISEMENT
Article continues below this ad
"I'm often reminded though of Ted Thompson, as most of you know, just a great general manager, passed away… earlier this year. (He) often talked about Aaron, that he's a comp — and it wasn't just Aaron, a lot of different players," Murphy said.
"He would say 'He's a complicated fella.' So, I'll just say that," he added as reported by NBC 26.
READ MORE – NFL Analyst Not Convinced Denver Broncos Have Totally Given up on QB Drew Lock
ADVERTISEMENT
Article continues below this ad
Echoing Thompson's thoughts about Rodgers, Murphy seemed to hint that he too thinks the same. First, the comments about Rodgers dividing the team's fanbase to now hinting at the quarterback being "complicated", Murphy is definitely not doing himself any favor in trying to win back the trust of Aaron Rodgers.
Trending Stories